As you all may know, we have a hurricane coming our way. Hurricane Joaquin is what they are calling it.  Living in Wildwood my whole life you always get the flow of how things will work out.

I wanted to give you my two sense on this matter. Now I have no experience in meteorology but here is my thought.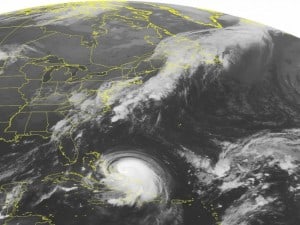 Hurricane Joaquin is currently a category 3 hurricane but is increasing fast. According to weather.com, Joaquin is having sustained winds of 125 mph, with gusts up to 155 mph. If Joaquin increases it's sustained winds to 130 mph, that would make this a category 4 hurricane.
Joaquin is still hanging out in the Bahamas and will slowly increase for the next 24 hours as the ocean water is very warm down there. The hurricane  will start heading north on Friday morning, putting the East Coast in a few of it's projected paths.
It is reported on abcnews.com  that by the time Joaquin reaches us it will be a category 1 hurricane. Its a good thing it decreases but also still not the best and here is why.

When Hurricane Sandy came running through in late October of 2012, she left thousands homeless and millions without power. What makes the story strange is that by the book, it wasn't even considered a hurricane anymore.
A category 1 hurricane's requirements is that it needs to have winds from 74-95 mph. When she slammed into New Jersey, she was going about 70mph. That means that it was considered just a tropical storm.
What does this mean to us? Look at how much damage was caused by just a tropical storm. Not only that look at the damage done to that awful high winded storm we had this past summer.
If Wildwood officials ask you to be removed from your house, please do. A life is more important then physical things.
Please do not take this hurricane as a joke. Here is a list on http://www.ready.gov/hurricanes on what you should do.
1. Hurricane winds can cause trees and branches to fall, so before hurricane season trim or remove damaged trees and limbs to keep you and your property safe.
2. Secure loose rain gutters and downspouts and clear any clogged areas or debris to prevent water damage to your property.
3. Reduce property damage by retrofitting to secure and reinforce the roof, windows and doors, including the garage doors.
4. Review your evacuation route(s) & listen to local officials.