Great Nor'Easter Grand ReOpening Recap

On Thursday May 25th we attended the grand reopening of Morey's Piers' Great Nor'Easter.
For those who haven't been following our monthly updates on the Great Nor'Easter (GNE), Morey's Piers re-tracked the entire ride. If you want to watch our update videos click here.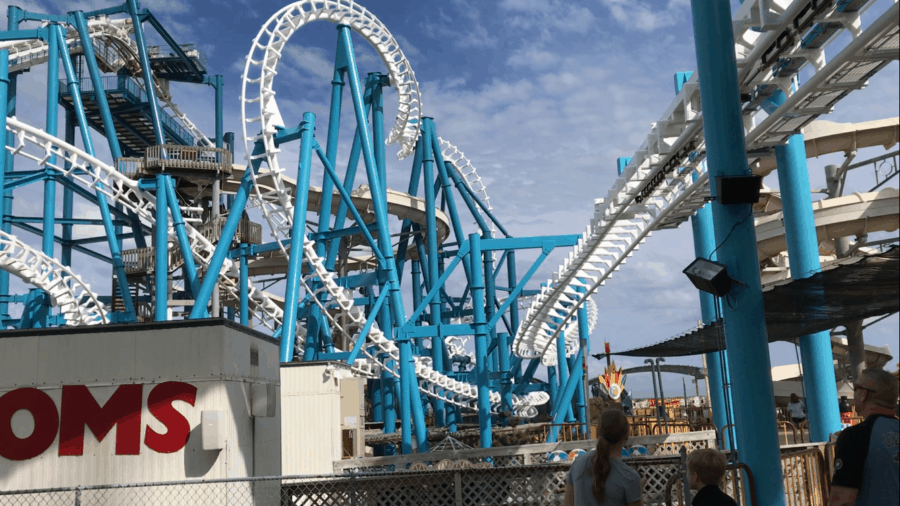 Re-tracking is when the track is taken down completely and replaced with a new track. What this does is it makes the ride a ton smoother. With the re-tracking Morey's also added in new brakes and painted the ride with different shades of blue.
Leading up to the event Morey's Piers billed the ride to be so smooth that your grandmother can ride it and boy did they not let us down!
To start off the ceremony Jack Morey dressed up in a granny's wig and put on blue lip stick. With the help of the grannys chosen to be on the first ride, Jack Morey cut the ribbon and away they went.
We Live Streamed the event on our Facebook page (Click Here to Watch the Live Stream Video Via Facebook). NBC and also ABC news were there to cover the event. They broadcasted it straight from the pier.
We were able to get on the third ride of the Great Nor'Easter and it feels just like a completely new ride. It is crazy how smooth it is. The topper on the entire ride is the brand new magnetic breaks. Never again do you feel like you are getting slammed into the station.
Our advice is to get down here and try the Great Nor'Easter for yourselves. We promise that you will love it!!!
Below we put together a recap video of the Great Nor'Easter Grand ReOpening and we hope you enjoy it.
We will be putting up a recap video of Memorial Day Weekend 2017 in the next few days so make sure you check back!
Hope to see you on the beach or the boards.
Joey