Hindenburg in Cape May
We all have seen the Hindenburg photo over Wildwood, but did you know there was a video that existed of the Hindenburg in Cape May?
This photo (pictured on the right) which by the caption below is titled, "Von Hindenburg Just Prior To Blown Up" is an incredible photo, but some would say that this was not from the final voyage of the Hindenburg but rather from an Aug. 8, 1936 flight.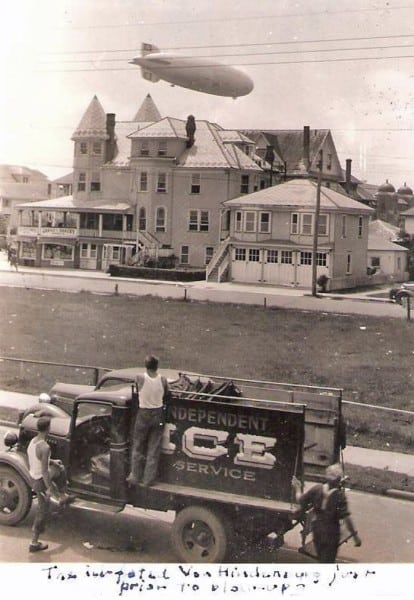 I personally wanted to look into this to see why they would say that when clearly below it said it was.
Before we begin, here is a little history behind this photo and the video below plus we bring up some debatable information.
In 1936, Berlin hosted the Summer Olympics. To celebrate the Olympics, the Zeppelin Company, which was a German company, decided to paint the Olympic rings just before the front engine car. During the Olympics, the Hindenburg flew high to capture some awesome photos and to also advertise to the different countries there of their airships and the service they provided.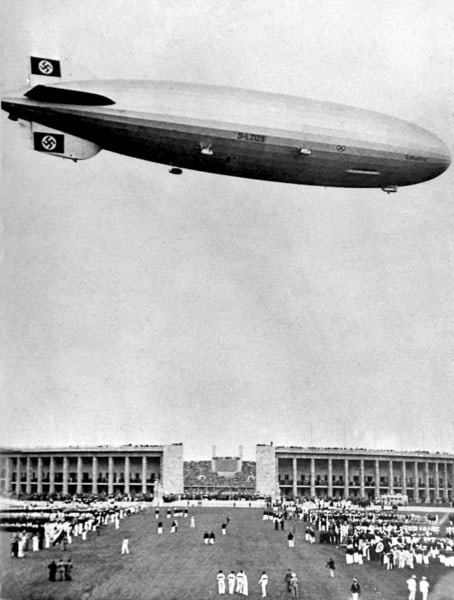 (Pictured to the left is a photograph of the Hindenburg flying over the Olympic Stadium, "Olympiastadion Berlin") You can barely make out all the Olympic rings in this photo.

During six back-and-forth trips from America and back, the Hindenburg sported these Olympic rings.
After the 1936 Olympics were over, the Zeppelin Company, took the Hindenburg into port and had the Olympic rings painted over because there was no point to keep the rings on there any longer.
For the 1937 season of the Hindenburg flights, there were no Olympic rings.
If you return back to that photo with the Hindenburg flying over Wildwood, you can just make out a dark spot right in front of the forward-engine car where the Olympic rings were or would have been. (Pictured below is the same photo but cropped and circled the place where the Olympic rings are.)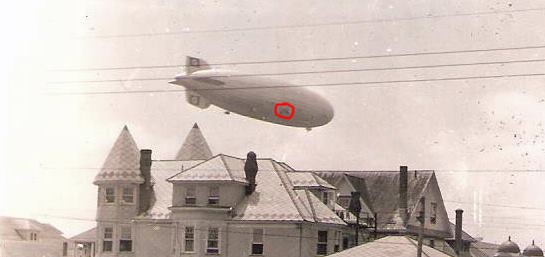 If we were to look at a photo from the May 6, 1937 Hindenburg disaster, we can clearly see that there were no Olympic rings.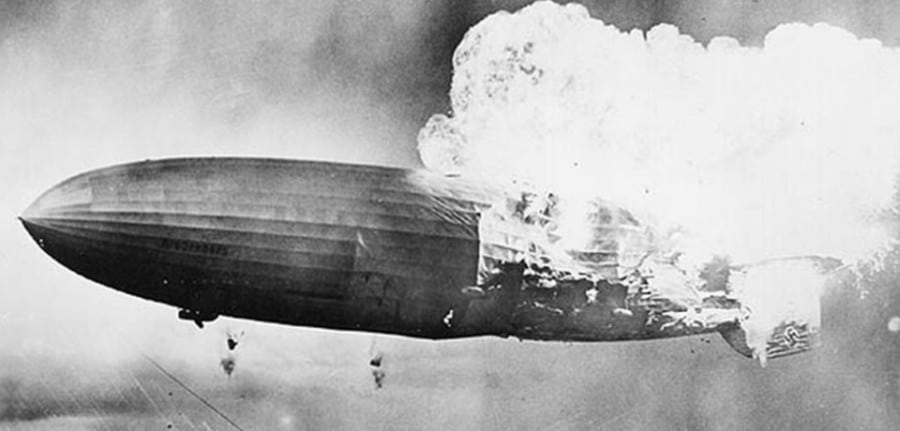 Sadly, for now, we will truly never know the truth behind that famous Wildwood photo. I guess we have to live with what you believe it is from. But now let's get on with the show and show you these two rare videos of the Hindenburg flying over Cape May.
Now I am unable to tell if these two videos were taken during the final flight or if it was from another time. It is hard to see if you can see Olympic rings on the airship.
Watch and tell us what you think in the comment section below
FOR THIS VIDEO, FAST FORWARD TO 12:48.
Thanks for reading and make sure you like our Facebook pages, "The Wildwood Boardwalk" and the "Wildwood Video Archive"