ICONA Proposes $150 Million Hotel for Ocean City
A $150 million luxury hotel has been proposed to be built on the iconic boardwalk in Ocean City, New Jersey.
ICONA Resorts, which also owns the Wind Drift, ICONA Diamond Beach, Mahalo Diamond Beach, and many other resorts, presented the proposal during this month's zoning and planning meeting.
The proposed hotel, which will be situated on the site of the former Ocean City Boardwalk Hotel, will offer 300 rooms and amenities including a rooftop pool, restaurant, and bar. The development is expected to create hundreds of jobs in the area and attract more tourists to the already bustling boardwalk.
Also, See: NJ Fines North Wildwood $12 Million
To bring his vision to life, Mita's proposal requires the acquisition of municipally-owned land that presently serves as a sizable public parking lot, overlooking the Boardwalk between Fifth and Sixth streets.

Additionally, the City Council must approve a zoning modification to establish a novel hotel district covering the Boardwalk section. As per the present zoning regulations, the city prohibits hotel construction on the Boardwalk.
The developer, Mita, has expressed a desire for a classic design that he refers to as "old seashore" rather than a more ostentatious and contemporary appearance.
ICONA released images of the proposed hotel during the meetings and made them available Friday afternoon to the press.
In them, a grand building is shown that rivals resorts like Disney's Disney's Grand Floridian and their Yacht club.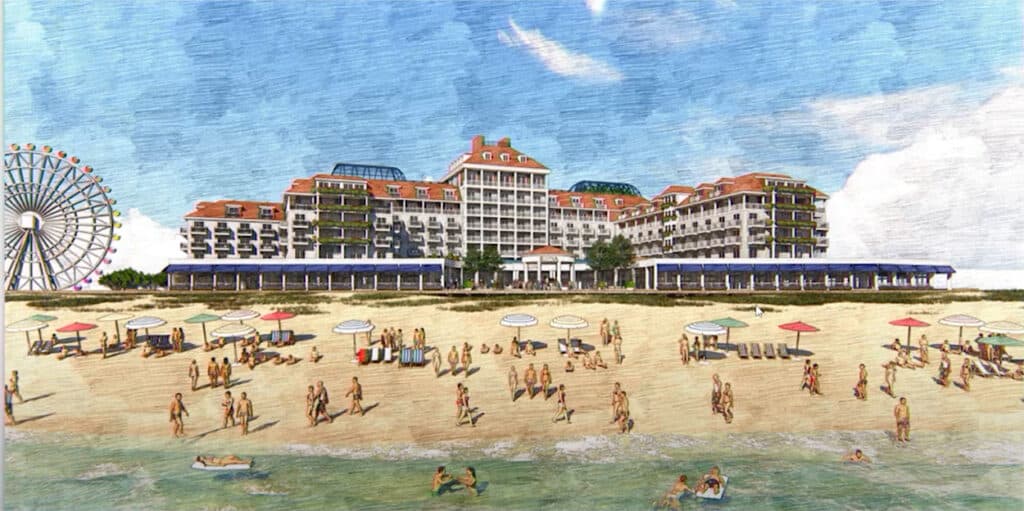 The entrance is located right on the boardwalk which draws guests into the resort and its restaurants.
The first level of the proposed luxury hotel would be reserved for commercial and retail space, while a charming courtyard at the front and center of the building would feature a gazebo for musical performances and other entertainment to entice visitors.
The second level would feature a stunning infinity pool, while the hotel building itself would be set back from the street, with a towering central building flanked by smaller structures to the north and south. Importantly, the proposed project would not diminish the size of the municipal parking lot nor reduce the number of parking spaces available to the public.
The proposal also includes the addition of a lovely tree-lined boulevard between the hotel and the parking lot, creating a pleasant and inviting pedestrian thoroughfare.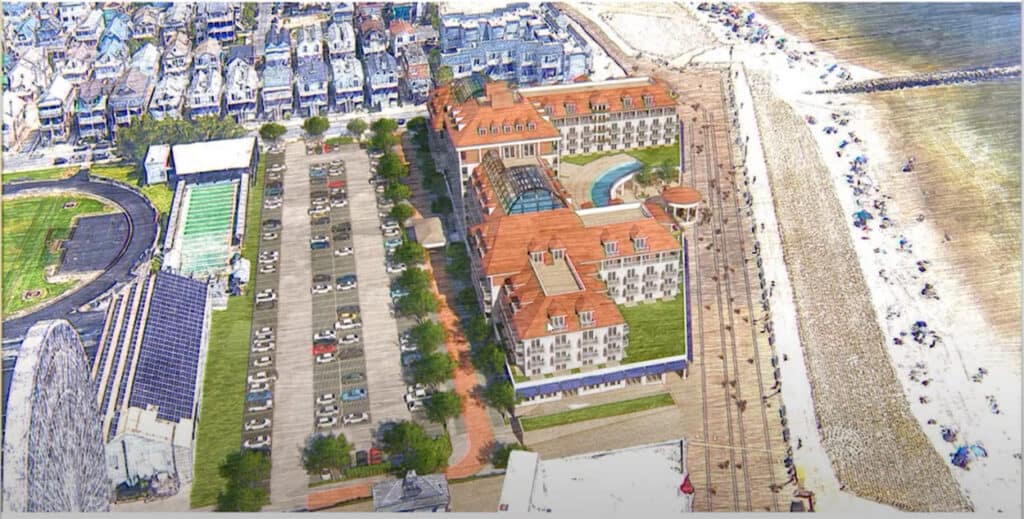 Das Architects, are ICONA's architects and have helped them design many other of their proposed resorts including the now-stalled Cape May Grand. Some compared their work to some of the best on the East Coast.
Mayor Gillian expressed his excitement about the proposed development, stating that it will bring new life to the area and create opportunities for local businesses.
"This is a great opportunity for Ocean City and our community. We're excited to see what this development will bring to the boardwalk and the city as a whole," he said.
Check out these other videos.