Did You Know: Cape May Had Two Military Ships Name After Her?
While looking up information at the National Archives in New York City I ran across some very interesting information. Cape May had two military ships named after her. Here is a little information about those ships and a video!
USS Cape May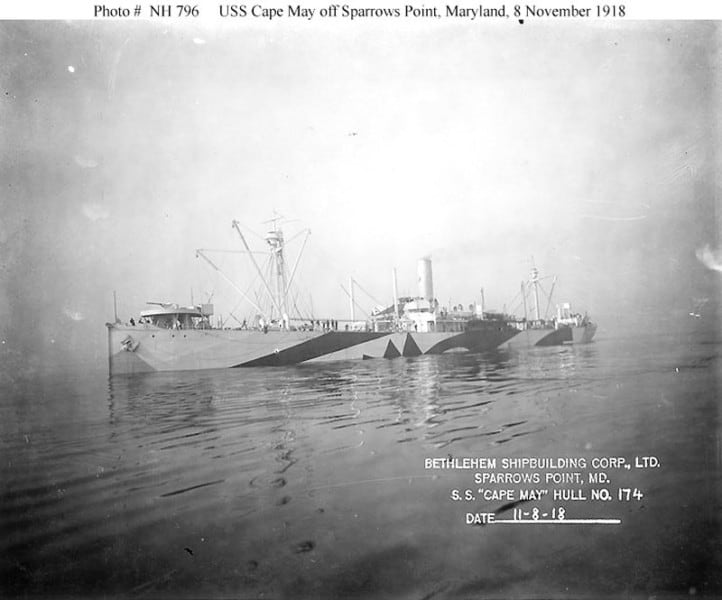 In 1918, a 6867 gross ton (14,495-tons displacement) freighter was built at Sparrows Point, Maryland, for the United States Shipping Board. As soon she was completed she was sent to the Navy and placed in commission as USS Cape May [Ship ID #3520] on October 25th, 1918.
She entered the war just a few short weeks before ending of World War I. During this time she was able to make one round-trip leaving from the East Coast in November of 1918 and returned state-side by January 1919 from France.
Once back in Newport News, Virginia, the USS Cape May was converted into a Troop transport to bring our men home. She was able to make two round trips to France to bring men back before she decommissioned on August 25th, 1919.
After her time with the Navy she was sold multiple times and had different name changes such as, Maliko, Shahin and SS. Bharateatlia. In 1953 she was scrapped in Japan.
USS Cape May County (LST-521)
Having that USS Cape May serviced in World War I, our second ship, USS Cape May County, served in World War II.
On October 4th 1943, LST-521 was laid down at Chicago Bridge and Iron Co., Seneca, IL. She was commissioned onFebruary 9th 1944 as a LST-491-class tank landing ship.
She entered the war with one planned mission and it was to help with the Invasion of Normandy in June 1944.
For the Invasion of Normandy she was able to bring one Landing Craft Tank (LCT), smaller tanks, wheeled and tracked vehicles, artillery, construction equipment and military supplies.
To get her load off the boat she would ram the bow of the ship into shallow waters. At this point she would open her giant doors on the bow which allowed the tanks and troops to make their way out.
When World War II ended on September 2, 1945, USS Cape May County was sent back state-side and was decommissioned on 21 October 1945. She was struck from the Naval Vessel Register on November 1st 1959.
At this time there is no known fate of what happened to the USS Cape May County. Some say she was taken out for target practice, some says she was scrapped while others say she is still in mothball fleet.
In this video below you can watch the USS Cape May County being built and launched! How cool
So there you go. I hope you enjoyed our article. What do you think? Do you think we will ever see another Military ship with the name Cape May? Comment below!

Make sure you pick up your Retro Hunt's Pier T-Shirt. (CLICK HERE)