Saving The Wildwood Postcards
Try to remember what your favorite rides in Wildwood looked like in the 1980s. See if you are able to remember what color the ride was or what other rides were surrounding your favorite ride. Hard to do right? With time, remembering these rides get harder and harder. It's not because of your age but rather that your brain dumps older memories to make room for newer ones. Someone once famous invented something that would help us to remember the past so that we could bring up the memories with a quick flash. Any guesses on what that invention was?….The camera.
With the invention of the camera, people found that taking a picture of an object or event helped them to capture that memory. Look at the photo below. Stare at it for only brief moment and see if you're able to hear the scream of the Hunt's Pier Flyer racing down the track or the sound of the Zipper's cages flipping. Are you able to hear it?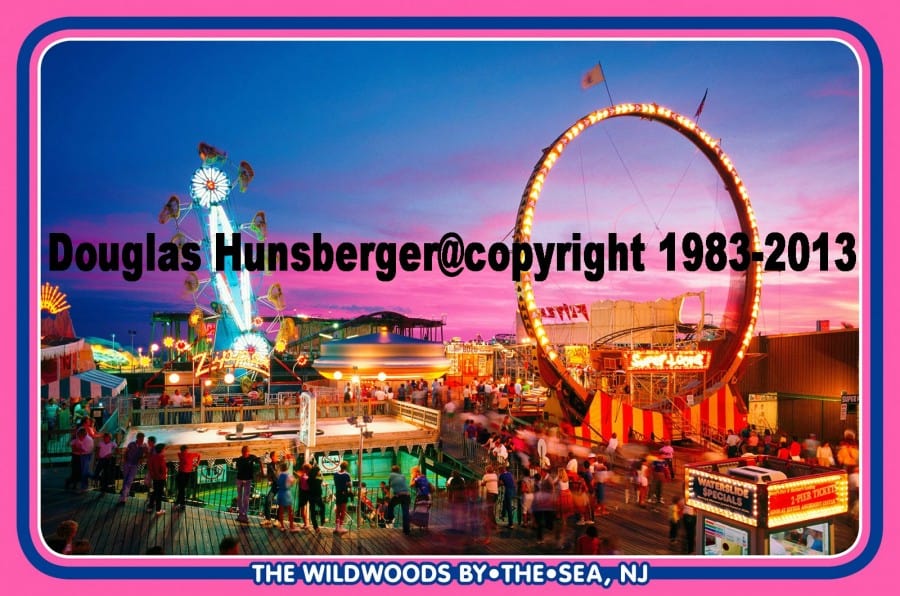 This photo might help you connect to a certain memory that took place or an event that will always be special to you. Truth is, if it wasn't for this photo and others like it, you may not have held on to that memory.
Who is the person responsible for bringing you back to this special memory? That person is Douglas Hunsberger.
Known as "The Mastermind of Postcard Inventions," Douglas Hunsberger has created and developed over 60 Wildwood postcards from 1981 – 1989. Some of his Wildwood postcards may be in your collection at home as we speak. (All the photos on this page were his).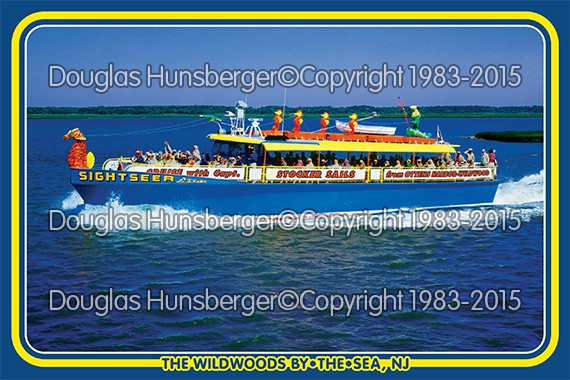 Jersey born and Wildwood transplanted, Hunsberger, found his love for photography when he was just 12 years old. Originally wanting to be an artist he thought that working in photography would be easier. He thought wrong. After He purchased his first camera, a Yashica-D, from his 7th grade art teacher, Hunsberger decided that he wanted to take pictures of scenic landscapes. During this time he started to collect Wildwood postcards that were sold on the boardwalk. To him postcards captured Wildwood in one shot with great clarity. This fascination with the postcard made him realize that he wanted to make postcards for a living.
In the mid 1980's, Hunsberger's postcards were a quick sell at all the boardwalk stores. People from around the world would buy them and mail them home as a memento. Back in the 1980s his post cards would sell for about six for 99 cents and were sized only about 6 inches by 4 inches big.
Today, however, these very same postcards that delighted millions of visitors to the Wildwoods and all those "folks back home" are fading almost as fast as the memories they were designed to preserve.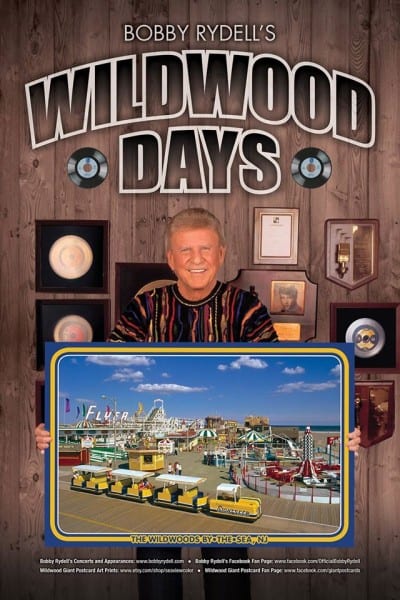 Postcards, like most other analog materials, are printed with dye based inks subject to deterioration from the earth's atmosphere. Unless something is done now, soon there will be nothing left of these spectacular images.
The best way to save these historic renderings is to locate the original photographic film (called 'transparencies' or 'slides') that were used to print the postcards. The film is then scanned digitally and professionally restored using various computer programs via the process called "remastering."
The challenge today is finding the film, if it still exists. A commercial calamity took place in the mid-1980s when postcard specialty printers, like Koppel Kolor in Hawthorne, NJ (the company that printed Hunsberger's cards) went bankrupt. When the buildings were stripped to sell at auction, all the film was discarded and shipped unceremoniously to the nearest landfill.
However, in a twist of fate, just days before the printer went belly-up; Hunsberger received a clandestine phone call from someone inside the plant about the impending shutdown. The photographer burned rubber on a trek up the Garden State Parkway and arrived, tires still smoking, at the North Jersey facility. He successfully retrieved his originals – just prior to their nearly certain demise.
This historic and artistic "bounty" was nearly forgotten until a group of local historians met with the photographic artist about producing a large scale retrospect for the Doo Wop Experience Museum. The "Giant Postcard Exhibition" will feature 20-25 digitally remastered 36-by-24 inch prints made with pigment based prints designed to last hundreds of years. The museum will house the exhibit from Memorial Day to Labor Day. In the off season, the exhibit will travel to libraries, colleges and museums through-out the country to help promote tourism.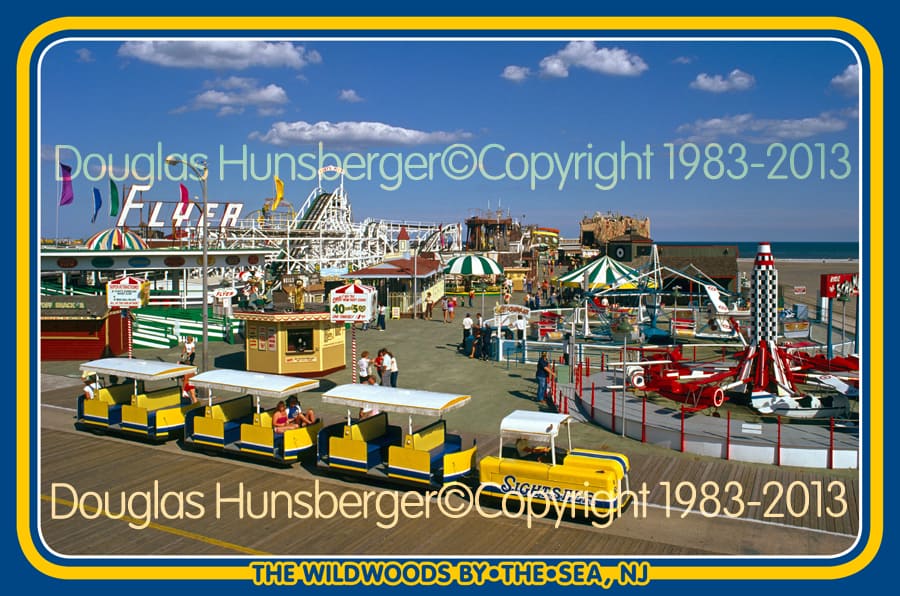 Having run the aforementioned gauntlet to produce the exhibit up until now, the final challenge is funding this amazing installation. Although 3 "Giant Postcards" have already been produced, the average cost to scan, digitally remaster, print and mount each one was an average of $2,000 (additional copies of the same remaster costs less.)
The endeavor is also a race against time as the images continually fade into oblivion.
Fortunately, you can help him to save the original film and bring back these historic masterpieces back to life though a sponsorship. The preservation of these photographs makes it possible for older generations to relive the sights (and sounds) of the Wildwoods in a time gone by while teaching younger generations about the history of the Wildwoods.
Hunsberger has developed a "rewards program" for sponsors who give to make the exhibit come to life. Some of those incentives are a 36-by-24 inch "Giant Postcards" as well as smaller "Little Giant Postcards" and a18-by-12 inch "Bobby Rydell's Wildwood Days" Deluxe Lithograph.
If you are interested in becoming a sponsor or would like to make a donation check out the links below.
Go FundMe Page: http://gogetfunding.com/giant-postcard-exhibition/
Giant Postcard Art Prints: www.etsy.com/shop/seaviewcolor
Email: giantpostcards@rocketmail.com
Facebook: www.facebook.com/giantpostcards