It's time for another one of our quizzes! Thank you for everyone who gave great feedback about our last one!
If you are anything like us here at "The Wildwood Video Archive" you are just crazy about the Wildwoods. You are so crazy about the Wildwoods that you want to learn everything you can about them, not only the history of the Island and the Boardwalk but also the history of the motels, neon signs and etc. We dug up some facts The Wildwoods and we want to see if you know your history. Take the The Wildwoods Quiz
Just as with "The Tram Car Quiz"
This is how it works! Just like in school we are going to give you a little test. We won't make it that hard. What we will do is write most of the fact about something and all you need to do it fill in the blank. For some I know it will be difficult but take a guess. I will include the answer key link at the bottom of the article. Do your self a favor and don't cheat! When your done share it with a friend and see how they do. Post your results below.
Good Luck!
1. The Wildwoods welcome over __________ visitors a year making it the number one family resort at the Jersey Shore.
2. The first inhabitants of the Wildwoods were from the ________________ tribe, an offshoot of the Native American Lenni Lenape nation.
3. The Wildwoods' beaches are ______. no beach tags are required.
4. Bill Haley and the Comets launched the hit single ____________________ from the stage of the Wildwood's Hof Brau Hotel on Saturday, May 29, 1954. This song topped the charts and changed modern music forever.
5. This "American" show, ________

__________, made several summertime appearances in the Wildwoods.
6. The first Wildwoods Baby Parade took place in _____.
7. The Wildwoods Boardwalk has more than __,000 wooden planks.
8 .

The Wildwoods Boardwalk stretches for nearly _._ miles.
9. The Wildwoods have the largest collection of mid-century commercial architecture in the United States, now labeled "___ ___."
10 .

Wildwood is home to the National ________Hall of Fame.
SEE BELOW FOR THE ANSWERS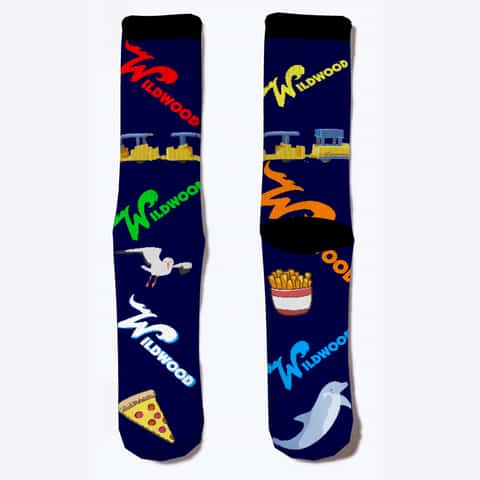 p.s. Make Sure You Pick Up Your Wildwood Socks! (CLICK HERE)
Share it with your friends and see what score they get!