Travel Channel Hotel Impossible Coming To Wildwood?
So check this out. There had been a rumor floating around the Wildwood forums of a television show episode being filmed down somewhere in the Wildwoods. The Wildwood Video Archive can now confirm that show, "Hotel Impossible" will be filming down here!
The reality television show, "Hotel Impossible" applied for a permit to film in North Wildwood from August 29 (twenty-ninth) through September 2nd (second). At this time there is no location stated yet but as soon as we can find out more we will let you know.
We came across this information from looking at the agenda for North Wildwood's August 16th (sixteenth) council meeting. The agenda for the meeting, that takes place at 10 A.M. shows that the Travel Channel applied for a "Special Event" permit and was approved. (Photo below)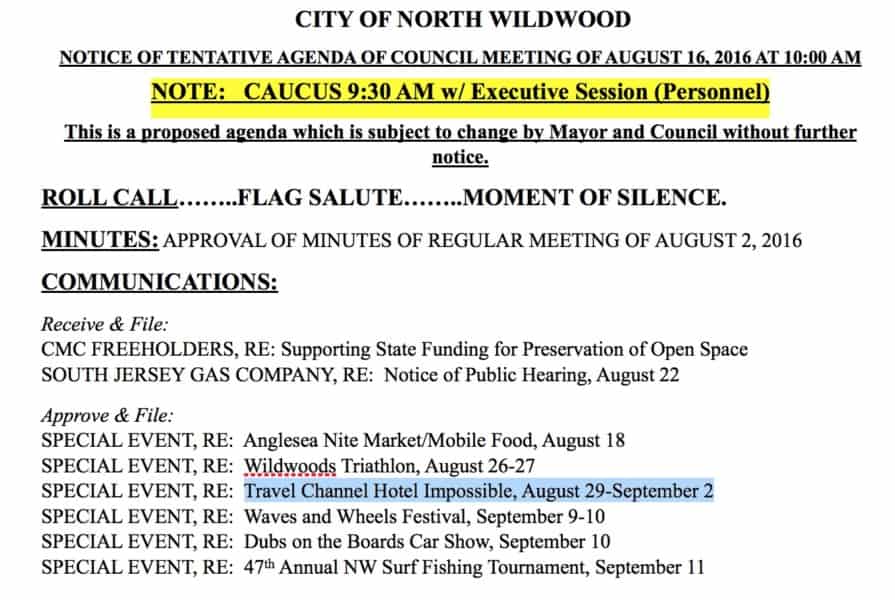 If you don't know anything about Hotel Impossible, here is a crash course. Host, Anthony Melchiorri, who has over 20 years of experience in the hospitality business, answers the calls of hotels and motels who need help in keeping their business afloat. Melchiorri comes in and overhauls the hotel and turns it into winning business.
UPDATE:  (8/31/2016) 4PM
HERE IS A PHOTO OF THEM FILMING IN WILDWOOD!!
For now, we can only guess on what motel he will be stopping at. What place do you think he will be at? Comment below !!!
Check out our other trending article, Is North Wildwood Changing It's Name?