Wildwood Starbucks Grand Opening Day Announced
Residents and tourists in Wildwood, New Jersey, have something new to be excited about: Starbucks is set to open its doors at 4800 Park Blvd, marking its first venture into a major shore town in lower Cape May County.
This new location is the third Starbucks in the area, but its arrival in Wildwood promises to bring a fresh jolt of energy to this picturesque coastal community.
It was back in June of 2022 that the Wildwood Video Archive broke the news that Starbucks would be bringing this location to the Wildwoods.
In December 2021, the lot was purchased by Wildwood Park Developers LLC for $650,000. The prior owners, Popeyes Louisiana Kitchen had acquired it with plans to create a Doo-Wop style establishment but that quickly fell through.
A closer look into public records uncovered a hidden gem: Wildwood Park Developers LLC was, in essence, a front for Starbucks. It wasn't until May 2022 that the public caught a glimpse of the first mockups for the Wildwood Starbucks, with the official presentation scheduled for the June Planning and Zoning meeting in Wildwood.
These mockups revealed a distinctive feature that sets this Starbucks apart from its South Jersey counterparts – it will not offer any indoor seating.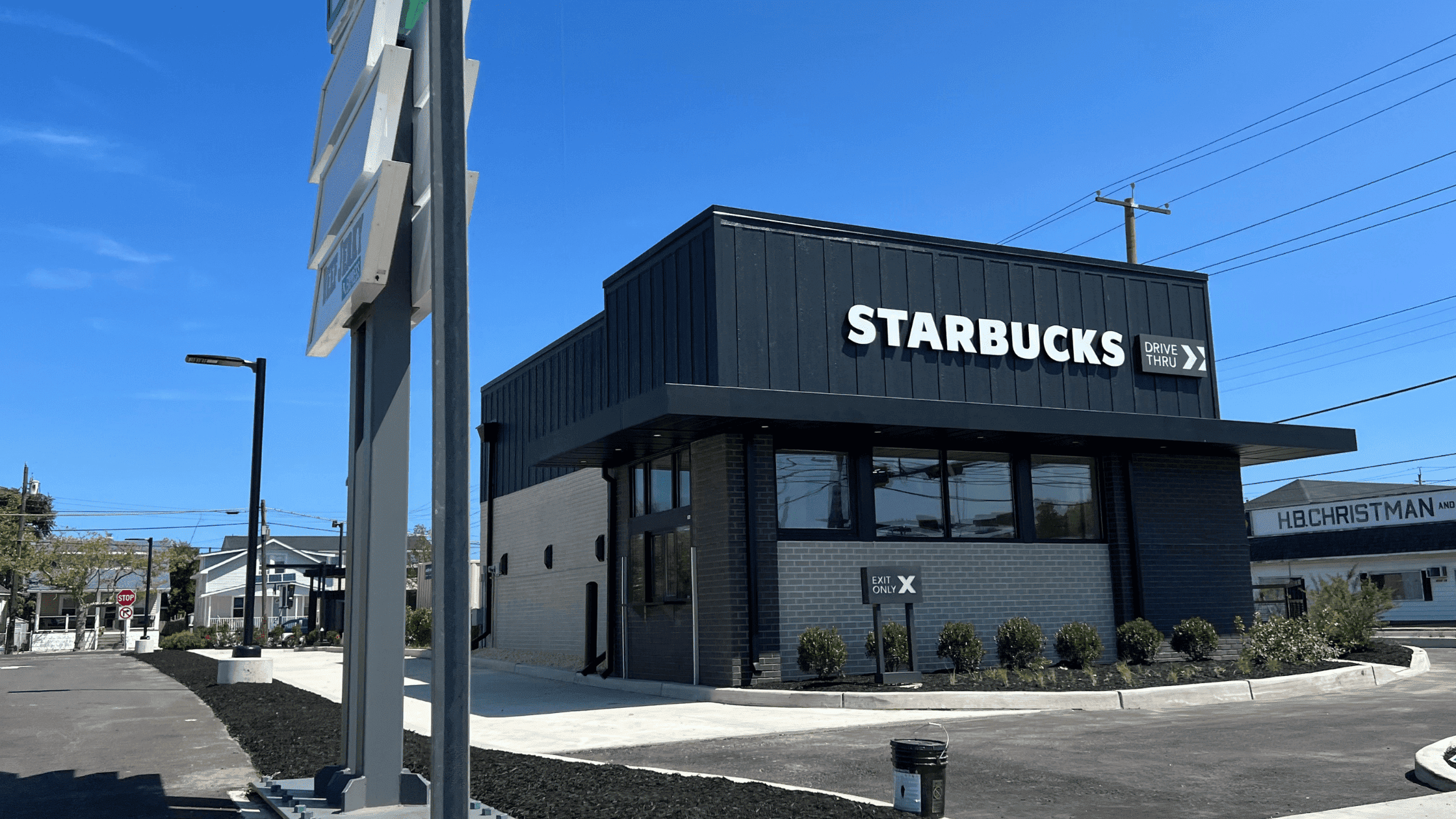 Instead, visitors will have three convenient options: utilizing the drive-thru, placing a mobile order for pickup, or walking up to the window to grab their drink to go. Due to its take-out only format, this location will not provide public restrooms.
The outdoor setting will offer limited seating, with a few benches and tables shaded by umbrellas for those who prefer to linger while picking up their favorite brew.
For those seeking employment opportunities at Wildwood's Starbucks, this grand opening brings good news. Job listings for various positions, with a particular emphasis on baristas, have been posted online.
The job description emphasizes tasks such as "preparing food and beverages to standard recipes or customized for customers, including recipe changes such as temperature, quantity of ingredients, or substituted ingredients." Given its drive-thru focus, the barista position will undoubtedly be the most sought-after role.
Since it is only going to be a drive through location, the barista position is going to be the most hired position at this location.
Mark your calendars for the grand opening of the Wildwood Starbucks, scheduled for Friday, September 22, 2023, at 1:00 pm.
The Greater Wildwood Chamber of Commerce will be present to celebrate this new addition to the community.
We wish Starbucks the best of luck with this new location. While Starbucks brings its signature flavors to Wildwood, let's not forget the vibrant local establishments that make this town truly special.
Also See: Wildwoods Restaurant Week 2023
The WVA has stopped by the Starbucks a few times to go over the progress of the project. You can check out our first walking tour of the almost completed building in our latest Wildwoods Construction Update video below.
Before you watch please consider subscribing to our YouTube channel.