Will Bozo Go or No?
There have been rumors flooding around the internet that the Bozo dunk tank on Sportland Pier was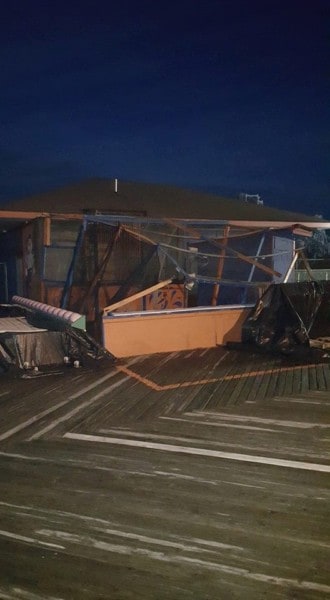 getting torn down. I assume this started after this photo (Photo on the right), shot by Brian Rush, hit the internet last night. The photo depicts the dunk tank both in disarray and barely standing. Ed Wheat provides us what the booth looks like during the day (Cover Photo).
We heard from one Bozo that it is not being taken down. As reported, it should be fixed sometime this week. We are guessing that the structure was damaged during the high winds we had recently but that has not been confirmed.
Bozo the clown has been a staple on the Wildwood Boardwalk for over 25 years and sits right in-front of Sportland Pier. (23rd and the Boardwalk) For those who have not came across the Bozo the clown dunk tank, Bozo is not your average dunk tank clown. Bozo insults you as you try your hardest at throwing the ball at the target, sending him to a cold bath. For most, Bozo gives people a good laugh and helps them to relax during their vacation. Regardless if you dislike him or love him, he is still apart of Wildwood history and future.
Below are examples of the typical insults you would hear Bozo say. NOTE: Not suitable for children. Put headphones on and watch.