10 Best Things About Wildwood, New Jersey: America's Iconic Shore Destination
Guest Article by Jamie Rush
Wildwood, New Jersey, is a legendary shore town known for its vibrant atmosphere, sandy beaches, and endless entertainment. This beloved destination, located on the Jersey Shore, has been captivating tourists and locals alike for decades. In this article, we'll dive into the top 10 must-know facts about Wildwood, New Jersey, that make it a truly unique and iconic place to visit. From its iconic boardwalk to its rich history and exciting events, Wildwood has something for everyone.
1. The Wildwood Boardwalk: A Timeless American Icon
The Wildwood Boardwalk is an iconic American landmark that stretches for 38 blocks and is lined with shops, eateries, and amusements. Known for its retro vibe and colorful neon signs, the boardwalk is a must-visit for anyone coming to Wildwood. With thrilling rides, classic boardwalk games, and delicious treats like funnel cakes and saltwater taffy, the Wildwood Boardwalk offers endless entertainment for visitors of all ages.

2. Doo Wop Architecture: A Blast from the Past
Wildwood is home to a unique architectural style known as Doo Wop, which originated in the 1950s and 1960s. Doo Wop architecture is characterized by its vibrant colors, futuristic designs, and playful motifs like starbursts and boomerangs. Taking a stroll along Ocean Avenue in Wildwood is like stepping back in time to the golden age of American roadside architecture, making it a hotspot for Instagram-worthy photo ops.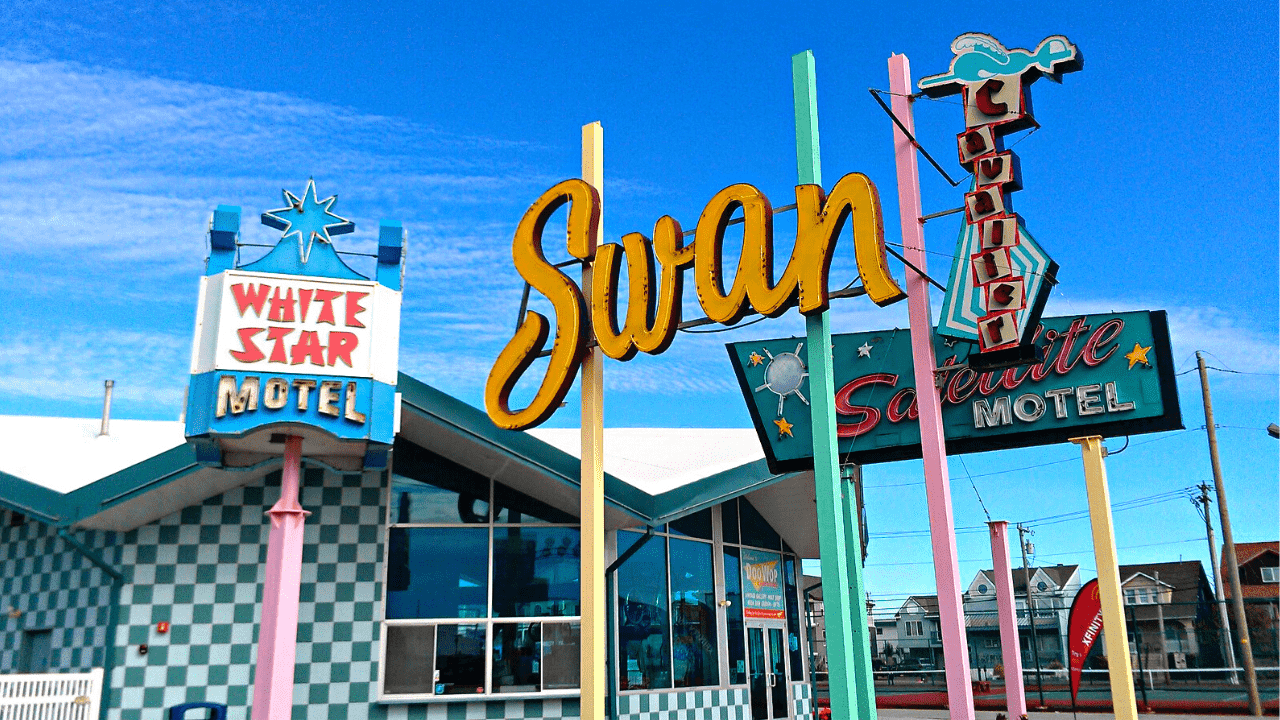 3. The Beaches: Miles of Pristine Sands
Wildwood boasts some of the widest beaches on the East Coast, with miles of pristine sands that are perfect for sunbathing, swimming, and building sandcastles. The beach is a major draw for tourists and locals alike, and it's a great spot for families to relax and play. Plus, with free beaches and affordable beach tag options, Wildwood makes it easy to enjoy a day of sun and surf without breaking the bank.
Also See: Hidden Grave On the Garden State Parkway

4. The Tramcar: An Iconic Wildwood Experience
A trip to Wildwood wouldn't be complete without a ride on the famous Tramcar. The Wildwood Boardwalk is the only boardwalk in the world with a continuously running tram system, and the Tramcar has become an iconic symbol of the town. With its distinctive "Watch the Tramcar, please" announcement, the Tramcar is a unique and nostalgic way to get around the boardwalk while taking in the sights and sounds of Wildwood.

5. Morey's Piers: A Thrilling Amusement Park Experience
Morey's Piers is a world-famous amusement park located right on the Wildwood Boardwalk. Featuring three piers packed with thrilling rides, water parks, and games, Morey's Piers is a haven for adrenaline junkies and fun-seekers. With attractions ranging from classic Ferris wheels to heart-pounding roller coasters, Morey's Piers offers an unforgettable amusement park experience that keeps visitors coming back year after year.

6. Diverse Events and Festivals: Something for Everyone
Wildwood is known for its diverse events and festivals that take place throughout the year. From classic car shows and music festivals to sporting events and craft fairs, there's always something happening in Wildwood. One of the highlights is the Wildwoods International Kite Festival, the largest kite festival in North America, which attracts kite enthusiasts from around the world. With a calendar packed full of exciting events, Wildwood offers something for everyone, no matter what time of year you visit.
Also See: The Death of New Jersey's Concrete Ship

7. Rich History and Cultural Heritage
Wildwood has a rich history and cultural heritage that adds to its charm. The town was first settled in the late 19th century and grew into a popular resort destination in the early 20th century. Many of the historic Doo Wop motels and buildings have been preserved, providing a glimpse into Wildwood's past. The Wildwood Historical Society and George F. Boyer Museum are also worth visiting to learn more about the town's fascinating history and heritage.
8. Family-Friendly Atmosphere: Fun for All Ages
One of the reasons Wildwood has remained a beloved destination for families is its welcoming and family-friendly atmosphere. With its wide beaches, shallow waters, and a plethora of activities catering to all ages, Wildwood is an ideal place for a family vacation. From the boardwalk rides and games to the water parks and mini-golf courses, there's no shortage of fun-filled options for families to enjoy together.

9. Culinary Delights: A Foodie's Paradise
Wildwood is a foodie's paradise, with a diverse culinary scene that offers something for every palate. From classic boardwalk fare like pizza, hot dogs, and ice cream to gourmet seafood, Mexican cuisine, and more, Wildwood has it all. The town is also known for its unique food offerings, such as deep-fried Oreos and funnel cake topped with inventive toppings. Food festivals and seafood shacks are also popular, giving visitors a chance to savor the local flavors and indulge in delicious treats.

10. A Sense of Nostalgia: A Trip Down Memory Lane
Visiting Wildwood is not just about enjoying the modern amenities and attractions, but also about immersing oneself in a sense of nostalgia. The town's retro vibe, with its Doo Wop architecture, classic boardwalk games, and vintage Tramcar, evokes a sense of nostalgia for a simpler time, reminiscent of the good old days of Americana. This unique blend of past and present creates a one-of-a-kind experience that resonates with visitors and can make for shareable and viral content on social media.

With its iconic boardwalk, Doo Wop architecture, beautiful beaches, thrilling amusements, diverse events, family-friendly atmosphere, culinary delights, rich history, and sense of nostalgia, Wildwood, New Jersey, offers a perfect blend of modern entertainment and nostalgic charm. Whether you're a thrill-seeker, history buff, foodie, or someone looking for a family-friendly destination, Wildwood has something for everyone. So, pack your bags, head to Wildwood, and get ready to create lasting memories in this iconic shore town that's sure to captivate and charm visitors of all ages.