Musicians Wanted for The Community Band By The Sea
Attention all musicians! The Wildwoods of New Jersey are calling on you to participate in a special performance paying tribute to the "Golden Age of Bands." The event aims to honor the local community bands that would welcome visitors to the beach during the late 19th and early 20th centuries.
The third Annual Community Band By The Sea Performance at Byrne Plaza (3400 Pacific Avenue, Wildwood, NJ 08260) will take place on Saturday, July 29, 2023, at 7 pm with a rain date of Sunday, July 30, 2023, at 12:00 pm.
The event will feature brass, woodwind, and percussion instrumentalists of all ages and abilities who will come together to create high-quality music for a seaside audience.
Under the direction of Dr. Joshua E. Long, PhD, musicians will rehearse one day prior to the performance, and music will be provided a month in advance. This gives you ample amount of time to practice for the big show.
Also See: Plans For Former Shamrock Bar Lot Submitted
The goal is to bring music into the community and provide meaningful communication through music for the audience.
The performance promises to be a fun-filled event for both participants and spectators alike. Anyone interested in promoting community band appreciation through sponsorship is encouraged to contact the organizers.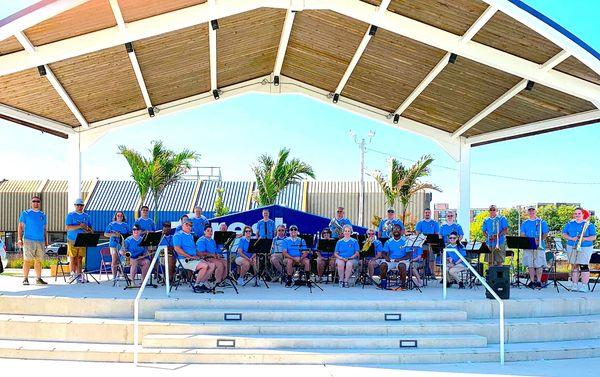 Don't miss out on this unique opportunity to showcase your musical talent and join a vibrant community of musicians.
The nominal nonprofit fee for your involvement in the performance will provide delivery of music, a shirt for the event, and participation at the venue.
Also See: South Jersey's Ship Graveyard
For the event, you will need your instrument (for percussionists they have some equipment), music stand, chair, music that was delivered to you, comfortable clothes, plenty of water, and your smile!
To learn more and get involved, visit https://artmusicemporium.com/band-by-the-sea.
Those interested in sponsoring and promoting community band appreciation through the Annual Band By The Sea Event, fill out the form HERE.
Couldn't make it to the Community Band By The Sea concert last year? Check it out in the video below.