My World Famous No Filler Crab Cake Recipe
Step into the charming world of seaside dining where every restaurant along the shore boasts its own distinct take on crafting the ultimate crab cakes.
Having embarked on countless culinary adventures at Cape May Country's delightful seafront eateries, I've savored a plethora of these delectable creations, quietly forming my own opinion about the true maestros of this art (my lips are sealed, though!).
After years of perfecting and safeguarding this treasured recipe, I've shared its magic with friends and family, whether during leisurely sojourns to our shore house or the warmth of holiday gatherings. Today, my fellow food enthusiasts, I'm ready to unravel the mysteries behind this exquisite coastal delight.
Crab cakes, oh, how they encapsulate the very essence of seaside cuisine! These splendid patties, born from succulent crab meat, epitomize a symphony of flavors and textures.
Picture this: a delicate, crispy, golden-brown exterior giving way to a succulent, tender interior that dances with the sweet sea-kissed notes of crab.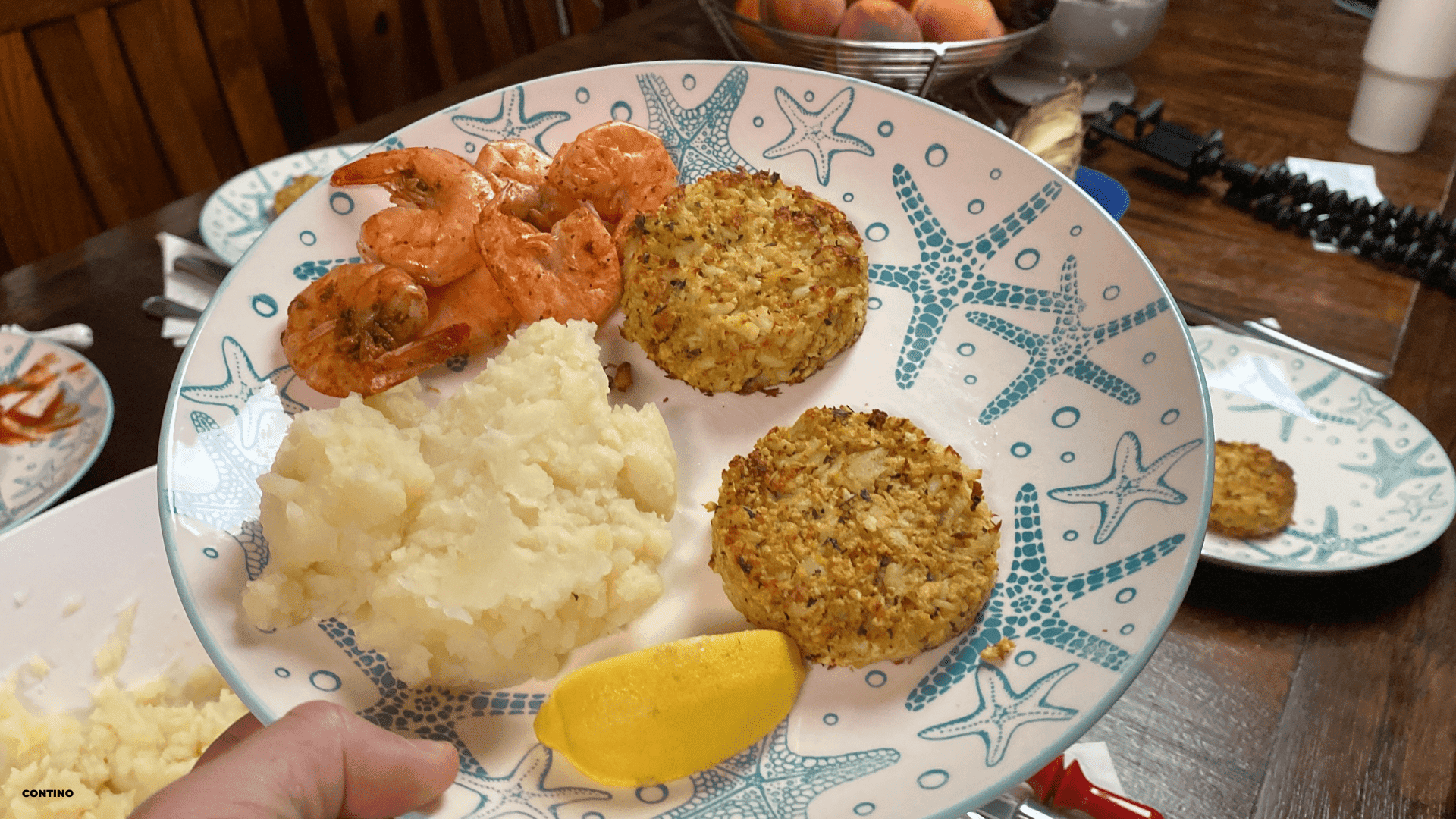 While some establishments earnestly endeavor to deliver a stellar crab cake experience, a heavy hand with fillers can sometimes muddle the waters of perfection. aka filled with tons of filler. Fear not, for my rendition embraces the minimalist approach.
Prepare to be both amazed and delighted, for this recipe not only promises a taste bud extravaganza but also swift and effortless execution. Within a jiffy, you'll have these culinary gems adorning your plate. This recipe yields six 1/2-cup wonders of crabby goodness.
For this recipe, you will need.
1 large egg

2 Lemons – 1-2 tablespoons fresh lemon juice, plus 1 sliced up for plating.

1/4 cup mayonnaise (I suggest not using the fat-free, it changes the taste)

1 Tablespoon chopped fresh parsley (or 2 teaspoons dried)

2 teaspoons Yellow mustard

1 tablespoon Old Bay seasoning (up to 1 and 1/2 tablespoons for a kick)

1 pound fresh lump crab meat*

2/3 cup of Panko breadcrumbs

1/8 teaspoon salt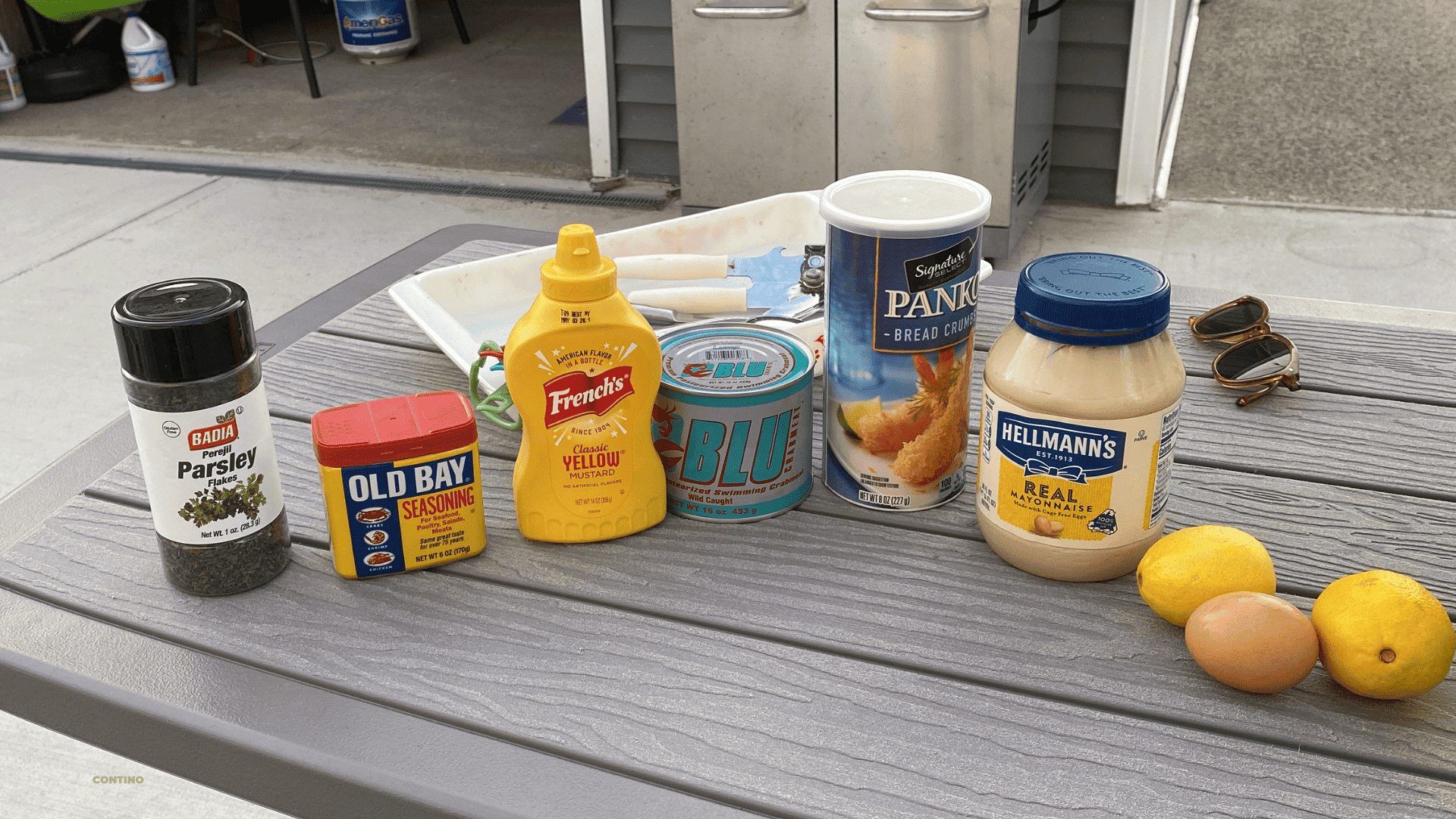 In a spacious bowl, summon your inner kitchen virtuoso and whisk together the egg, mayo, parsley, mustard, Old Bay seasoning, lemon juice, and a pinch of salt. Embrace the vivid hues that emerge from this blend of flavors.
Now, introducing the star of the show – the crab meat. Gently layer it atop the bowl's contents, followed by the Panko breadcrumbs. Here's where finesse comes into play; take up a trusty rubber spatula and gently meld these elements into a harmonious medley. Remember, we're crafting, not crushing.
I suggest just using your hands and go slow. If you go too fast you could break up the crab meat into small pieces which defeats the purpose of making these.
If perfection beckons, grab a 1/2 plastic measuring cup to mold these gems into flawless circles. (Yes, my dear wife still rolls her eyes at this meticulous touch, but trust me, it's worth it.)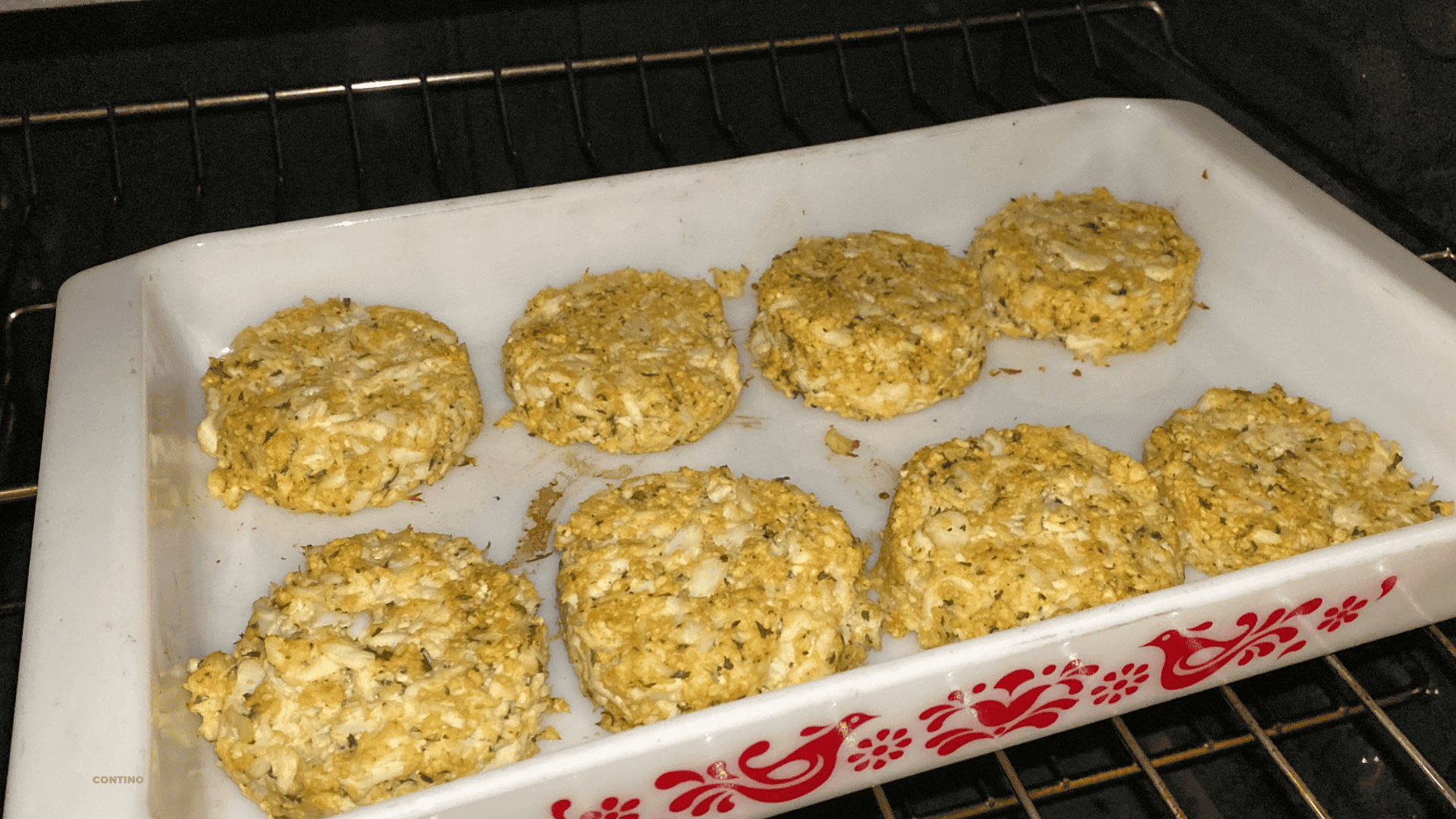 As the oven heats up to a sizzling 450 degrees, place your artful creations on a baking pan and let them mingle with the warmth.
Once pre-heated place the crab cakes on the top shelf to bake for 12-16 minutes.
For the last 2 minutes throw them on broil to bring out that the enchanting hues of gold and brown.
Once they are down take them out and let them sit for 5 minutes before plating them.
Also See: Making Pork Roll Ice Cream!
Now, my fellow culinary aficionados, the time has come to bask in the fruits of your labor.
With a plate adorned with lemon slices and an anticipation-filled heart, relish every moment as you savor the ocean's embrace in every delectable bite.
If you make these crab cakes please share your results with us on Facebook and tag Wildwood Video Archive.
To make things easier, we filmed an entire video showcasing this tasty recipe. I always found that watching someone cook is a lot easier than following instructions step-by-step.
Before you watch the video below, please consider subscribing to our Youtube channel. It's our goal to hit 100,000 subscribers by the end of summer.