The Children's Fresh Air Home Awarded 20K from Uber!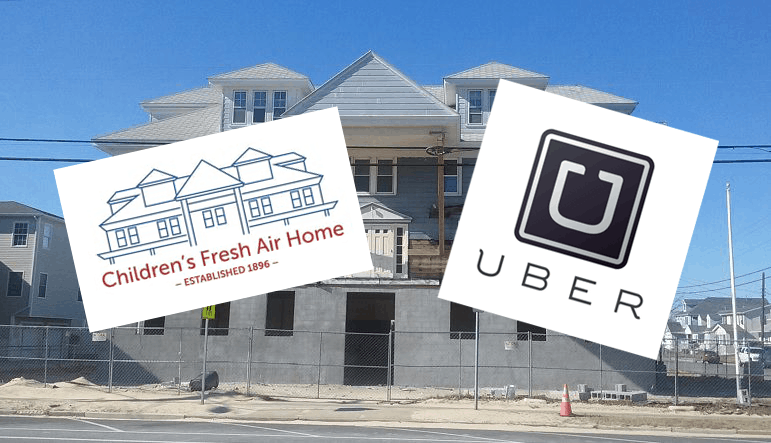 Uber, yea we are talking about the rider app people use to request a ride, donated $20,000 to North Wildwood's Children's Fresh Air Home.
Project Jumpstart is a program that funds causes and organizations that Uber's drivers feel are important to the community.
This is how it works. Every six months, partners/drivers can submit an application for sponsorship for a cause and if picked Uber will award certain amount of funding to that organization.
New Jersey resident, Thomas Glock, submitted North Wildwood's Children's Fresh Air Home for Project Jumpstart and Uber New Jersey's general manager Brian Hughes selected awarded them the money.
One year ago today we, here at the Wildwood Video Archive announced a big campaign to help push The Children's Fresh Air Home online. We started a big Go Fund Me page and created a video.
Also See: North Wildwood's Seaport Pier UPDATE
If you would like to donate or watch the video click the link below.
For those who do not know, The Children's Fresh Air Home (CFAH) is a non-profit organization that provides a no-cost, enriching summer experience at the Jersey Shore in a safe, positive environment for children who may be living with family or community adversities.
The

Children's Fresh Air Home is in-line to obtain a three hundred thousand dollar ($300,000) grant from the state of New Jersey but needs to show matching funds in order to get it.
This is where you come in. If everyone who read this article were to donate between $2-$5 this fundraiser would be over and they would have enough money to obtain the state's requirement of match funds!
The Children's Fresh Air Home is located at 1100 Surf Ave, North Wildwood, NJ 08260. Contact us at 609-522-2716 or via email at

john@freshairhome.org

. You can check out the Children's Fresh Air Home's Website (CLICK HERE)
Check out these articles below!