To Save Or Not To Save….Zaberer's Sign
(Before you read please know I want your opinions. Good or bad, please let me know how you feel about it)
In a time long before cell phones, there was a magical restaurant call Zaberers. There was nothing like it in the world. From the fun decor to the even crazier "Zaberized Cocktail," this place was the place to be any night of the week During the summer. Famous celebrities came to dine here that ranged from Muhammad Ali, Richard Nixon and to Bobby Vinton.
Ed sold the operation in 1989. Towards the end of it's time, Zaberers had been on the auction block and was purchased in 1991 to a few investors. As summer started to ram up for the 1992 summer opening, Zaberers, which was being re-named"Zabe's Beef and Ale", was getting ready to open for July 4th weekend when out of no where on June 11th at 11 p.m. a fire "broke out" in the kitchen and started throwing flames one hundred and fifty (150) feet high into the North Wildwood Sky.
Some claim that the fire was arson but as far as I can see online, there wasn't enough proof to show that it was arson.  As it stated in the only newspaper article from The Philadelphia Inquirer, (I have written to them and are waiting for a response) they wouldn't know what started the fire until the following day. My guess is that The Philadelphia Inquirer had not finished uploading it's printed material. For now it's who says what.
So what is this all about you ask? Why is this important to us? Well let me tell you.
As many of you may or may not know, I am a Wildwood Enthusiast. I love this town more then anything and would do almost anything to help preserve anything historical.
Recently I was in one of the Wildwood Facebook groups and noticed that someone had posted a picture of one of the original signs from the North Wildwood location.  (Picture on the right). This sign was placed where the Wawa is now located. It was taken in by Flemings Junkyard and has been sitting there for years. As you can tell, the sign has been taking a beating.
As a lover of everything Wildwood I honestly was hurt to see such an amazing Wildwood Landmark sit and rust to death. I started kicking around the idea of trying to restore the sign on a few Wildwood blogs and are writing this piece to you, my fellow "Wild-Woodians" and see what you think.
To start things off I know what you are going to say, "But the Wildwood Doo Wop Museum already has one of the two Zaberers sign in great condition why go out of your way to save another one?" I can understand
where this is coming from. Why save something when you already have one almost as good? It's the Wildwood memories and nostalgia that come along with it plus Zaberers meant a-lot to people over the years. Talking in groups with tons of people I heard stories of how couples met here and got married years later, stories of meeting Ronald Reagan, or eating a steak with Joe Rizzo. We need to keep the memories alive for future generations to know what the "old days" were like.
So now for the plan.
Please forgive me as this may-be a very long shot but every crazy idea had to start with a beginning and so this one is mine.
I recently, emailed Fleming's Junkyard (still waiting for a response from them) asking if they were able to sell the sign and what kind of condition it is in. If by moving it, it would cause the sign to completely crush due to the rust, then I will abandon the idea. But if Fleming's is willing to sell and it wont break under it's own weight, I would like to bring it back to Wildwood to get repaired.
I have already reached out to ABS Signs by email and by Facebook (still waiting for a response from them)  to see what kind of estimate they could give me if I asked them to restore the sign to almost new condition.
If we get a green light up to this point we will be good to go. The only problem up to this point would be where to find the money. As we know money is always tight at city hall and with the county. This would be something that we, as lovers of The Wildwoods, would have to fund on our own. Of course if Flemings or ABS offers a crazy price on getting this done then I will have no choice but to scrap the whole idea. But if by any chance we are able to get a green light for a good price I will put together a Fund-Me page together and try to raise the funds. With the estimated 9 million visitors a year (according to http://www.wildwoodsnj.com), we would have a great chance of raising enough money to save the sign.
Once again, this is something I would like to do but without the support of the public and help from fellow Wildwood lovers like yourself, this dream will not happen.
For now I will keep you updated with anything I hear but what I need you to do is help get awareness out there. You can do that by share this article on your facebook page, your twitter account, your email( pretty much anywhere you can spread the word. When you post it on facebook, please make to tag our facebook group "The Wildwood Boardwalk" or "Wildwood Video Archive"
Here is my proposed position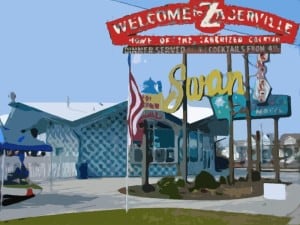 Thank you for reading!
Facts and information provided by The Philadelphia Inquirer.
Some photos provided by: http://www.doowopusa.org/
Cover Photo By: Scott O'Donnell