White Caps Motel UPDATE
Incase you missed it, Back in August we alerted you of yet another camera crew coming to Wildwood to film. With some research we saw that "Hotel Impossible" was making their way down to Wildwood from

August 29 (twenty-ninth) through September film at the White Caps Motel in North Wildwood.
The episode of Hotel Impossible, titled, "Jersey Shore Uproar," aired on November 28th at 10pm on the Travel Channel. If you missed it, don't worry, we have the whole show right here.
(CLICK HERE TO WATCH THE FULL EPISODE OF HOTEL IMPOSSIBLE.
We decided to take it upon ourselves and see if the White Caps Motel was keeping up on it's promise of fixing up the place. We took some photos and made a video.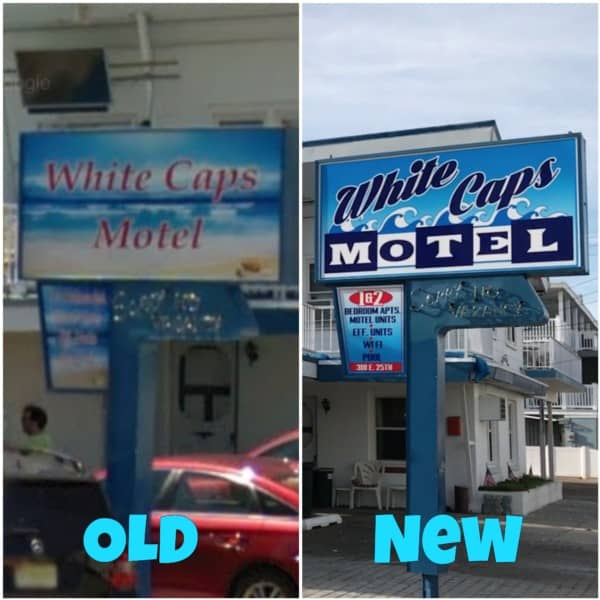 It looks like progress has been made to improve the outside of the property as it looks like it was recently power washed to take off all the loose paint. Our guess is now that

it's winter management could be waiting for the Spring to paint.

Another one of the noticeable improvements was a new White Caps Motel sign. (Photo is to the right) The new sign has a Doo-Wop feel and has brighter colors.
We did find a dumpster on the side of the White Caps Motel which could indicate construction taking place inside some of the rooms.
We reached out to management but no one has reached back to us. We will return to the White Caps Motel for another update in late March. Please stay tuned for that update article.
Watch the video and comment below what you think.
While you are here, check out our recap of the Wildwoods Polar Bear Plunge! (It includes A Drone Video)