Wildwood launches " Photo Spots"on Beach, including 1930's Wildwood By The Sea Sign Replica
The five displays will provide fun for visitors, and positive publicity for Wildwood through social media.
WILDWOOD-Over 70 years ago, the Wildwood By The Sea sign greeted visitors heading into town and most famously displayed a group of friends posing for a photo op. Today, the City of Wildwood has announced the sign has been recreated by the Department of Beach Services, to be on display this summer. The display will be one of five new attractions provided by the City to offer fun photographic opportunities for visitors to enjoy and create positive publicity for the town.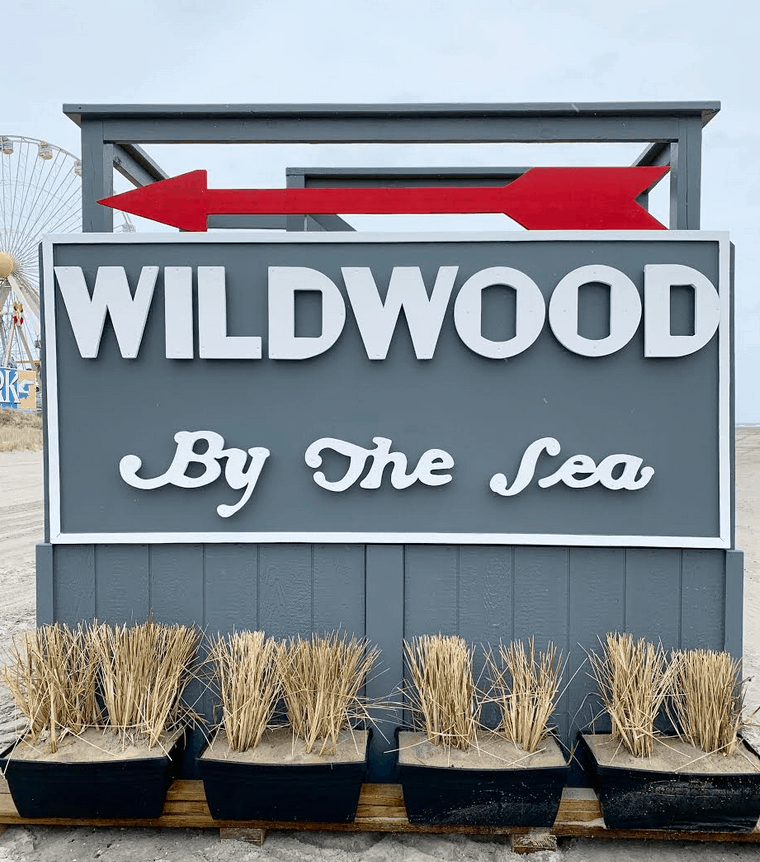 The replica is much smaller than the original at just 4 feet tall and 8 feet wide, but the nostalgia is not lost. Aside from the difference in size, all other specifications are estimated to be correct. Due to the lack of recorded information, the sign was created solely by research of images and one home video that displayed the arrow to be red in color. For visitors to be able to recreate the iconic image of the girls standing on sign, the City has added stairs and a platform in the back of the display so people can pose above the sign as they did in the historic photo.
In addition to the replica sign, the City will offer four "face-in-hole" displays of various whimsical beach scenes. The displays will start with a trial location on Garfield Avenue, and may move around the beach and boardwalk throughout the summer. Visitors will be able to pose in the displays in groups, with steps available for children. Similar displays were available decades ago on the boardwalk, providing nostalgia for long time visitors of Wildwood.
Each of the five new displays plus the two existing photo spots of oversized chairs, will feature a "Wildwood Photo Spot" sign with details on how to tag the City on social media and use the hashtag #WildwoodFun. The City hopes visitors have a fun time posing with the displays and post their images, where Wildwood will receive endless impressions and free, positive publicity.
The project was created by Beach Services director Tom Miceli and Mayor Ernie Troiano Jr, with collaboration on the Wildwood sign from the Wildwood Historical Museum. Each display was created by Beach Services, saving the City thousands of dollars on similar commercially made pieces. Troiano hopes the displays bring a refreshing light to Wildwood, and that they will become another great reason for visitors to stay in Wildwood this summer.
"We are excited to put a little nostalgia back into our beach where so many of us grew up every summer for most of our lives," Troiano said. "To be able to rekindle a memory or to produce a little smile is what we are all about. Come laugh and be part of what Wildwood was, is, and will always be. Just have fun."
Some of the displays will be up for the annual Easter egg hunt, with the remainder launching before Memorial Day
Check out these Wildwood articles and videos