Wildwood's Historic Sea Theatre SAVED!
We have some AMAZING news out of the Wildwoods today!
As you know, we try to do everything in our power to preserve Wildwood history. From scanning 8mm films to historical videos, we like to keep the memories of Wildwood alive.
Yesterday we received word that a historic theater, the Sea Theater located at 4005 Pacific Ave in Wildwood, has been saved from being erased.
The theatre was purchased by an unnamed person who plans to reopen the theatre sometime in 2021.
According to the Facebook group,

Preserving the Wildwoods

, it was one of the last Nickelodeon theaters to operate in the US.
The Sea Theatre was originally was closed back in 2011 and the owners wanted to hold off on selling it until they could find someone who would keep it as a theatre.
For those wanting to know this history, it surely has an interesting one.
The structure, circa 1915, was built as one of three storefronts. At the time of its first use, enterprises were established to fill the void of permanent showcases for the new celluloid photoplays, developed by the "Wizard of Menlo Park," Thomas Edison. 
      The theater's life as a Nickelodeon was very short, at most a year or perchance only a summer season.  It embarked upon its alleged operation as almost an afterthought of a vanquishing institution, sitting on the dawn of the great movie palace age.
     Through the years, the building has gone through numerous occupancies, transformations, and finally stood abandoned for years. In 1998 the building was purchased by the Penkalskyj family.  They initiated a half decade-long laborious process to recompose the theater.  The project incorporated available original detail with custom struck ornamentation from the original dies of the early 1900s. 
[History and photos brought to us from

seatheater.net

]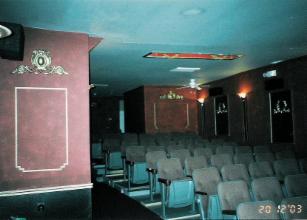 Tune back later for more information.