Trying NEW Chocolate Flavors At Clusters Handcrafted Popcorn
Nestled among the sandy beaches and nostalgic boardwalk attractions of Wildwood, a hidden culinary gem awaits popcorn enthusiasts and sweet-toothed adventurers alike. Clusters Popcorn, located at Wildwood Avenue and the boardwalk has been captivating visitors with its delectable flavors and unique creations since they opened their doors last summer.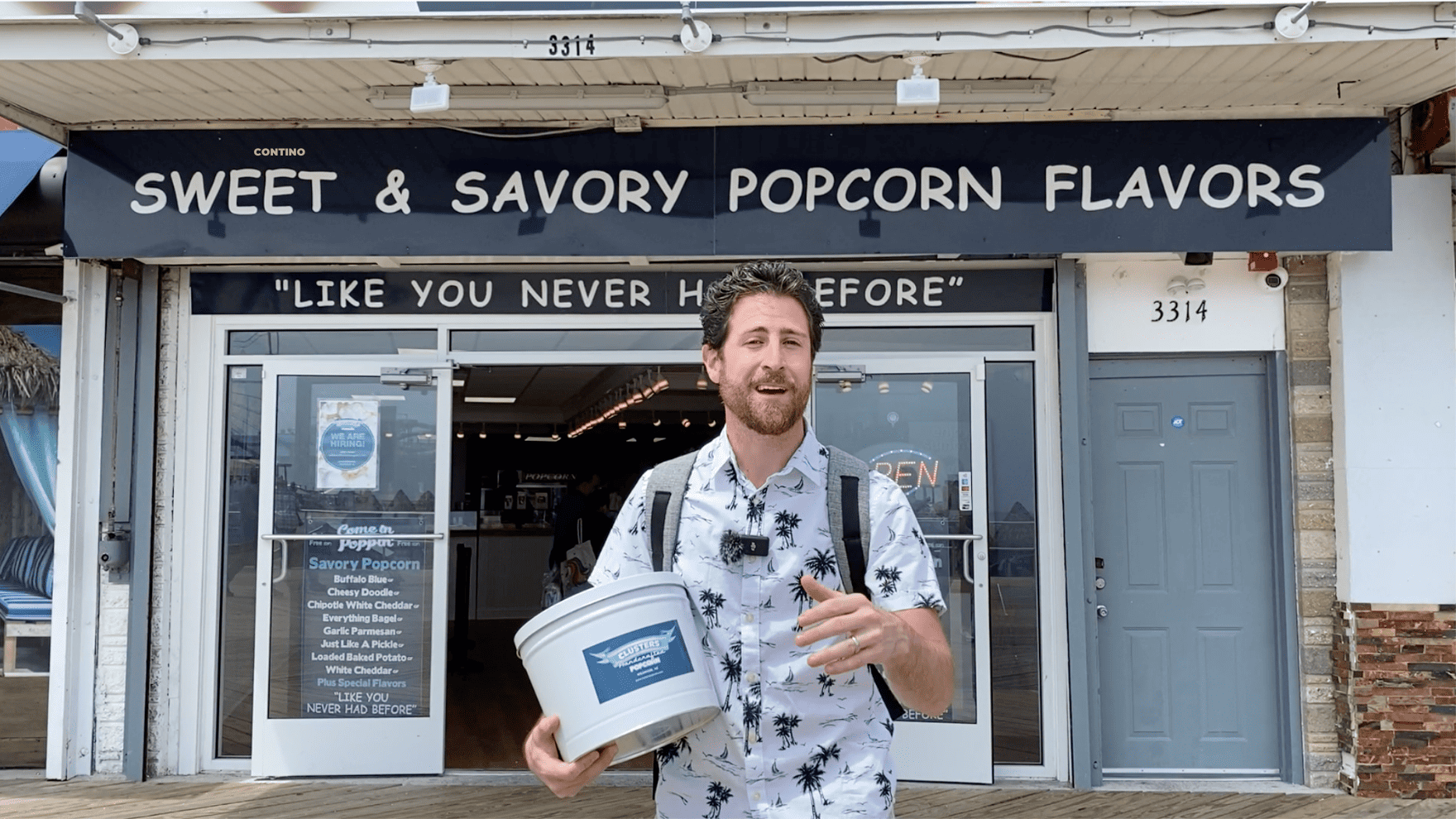 This past weekend they opened for their second season with new flavors that are only here for a limited time.
Before you step into Clusters Popcorn, the aroma of freshly popped corn and a kaleidoscope of tantalizing flavors waft through the boardwalk air, immediately captivating your senses.
Dan and Sabrina, who run Clusters Handcrafted Popcorn located in New Hope and Wildwood, love to keep the flavors of their popcorn fresh and tasty. Prior to this video we stopped by their Wildwood location last year and tried their 23 different flavors of popcorn. This number has slowly climbed to over 30 (seasonal flavors included).
To check out our 2022 tasting tour video click HERE.
Some of their original flavors included Toasted Coconut, Espresso Caramel, Cookie Explosion, White Cheddar, and Garlic Parmesan but nothing prepared us for their new flavors.
Also See: Possible New Bar Coming to Wildwood
The Wildwood Video Archive had gotten word that Dan and Sabrina were introducing new Chocolate Flavors at their Wildwood location and so we knew we had to stop by.
Some of these new flavors include Somoa, Caramel Macchiato, Cinnabon, Vanilla Cupcake, Touchdown Munch, and Caramel Fudge Brownie.
There is one flavor that you don't want to miss out on which is called Choco-Pop-O. Over the Winter holiday, Clusters Handcrafted Popcorn put a contest online to have fans help pick their new flavor, this one won.
Dan and Sabrina would describe this flavor as similar to a Choco Taco, the now-discontinued ice cream treat. They are so right!
The Wildwood Video Archive team stopped by this week to try all of these new flavors and filmed our reactions. You can watch that video at the bottom of this page. Be sure to let us know which one is your favorite.
These Chocolate Flavors are only going to be available while it's still cool out. (Think Spring/ Early summer and fall). This is done because the chocolate on the popcorn would be sure to melt in the 80+ degrees we have at the beach.
Also See: Two Motels Sold in the Wildwoods
If you are unable to make it down this summer but still want some amazing popcorn, you can order online by clicking HERE. If the family is visiting and you want them to get some in-person, pick up some gift coins. These coins are in the shape of a casino chip and are worth $5 each.
As a reminder, be sure to bring your tubs and tins back to get them refilled. Not only do you get a discount, you also get to ring the bell which allows you to skip the line.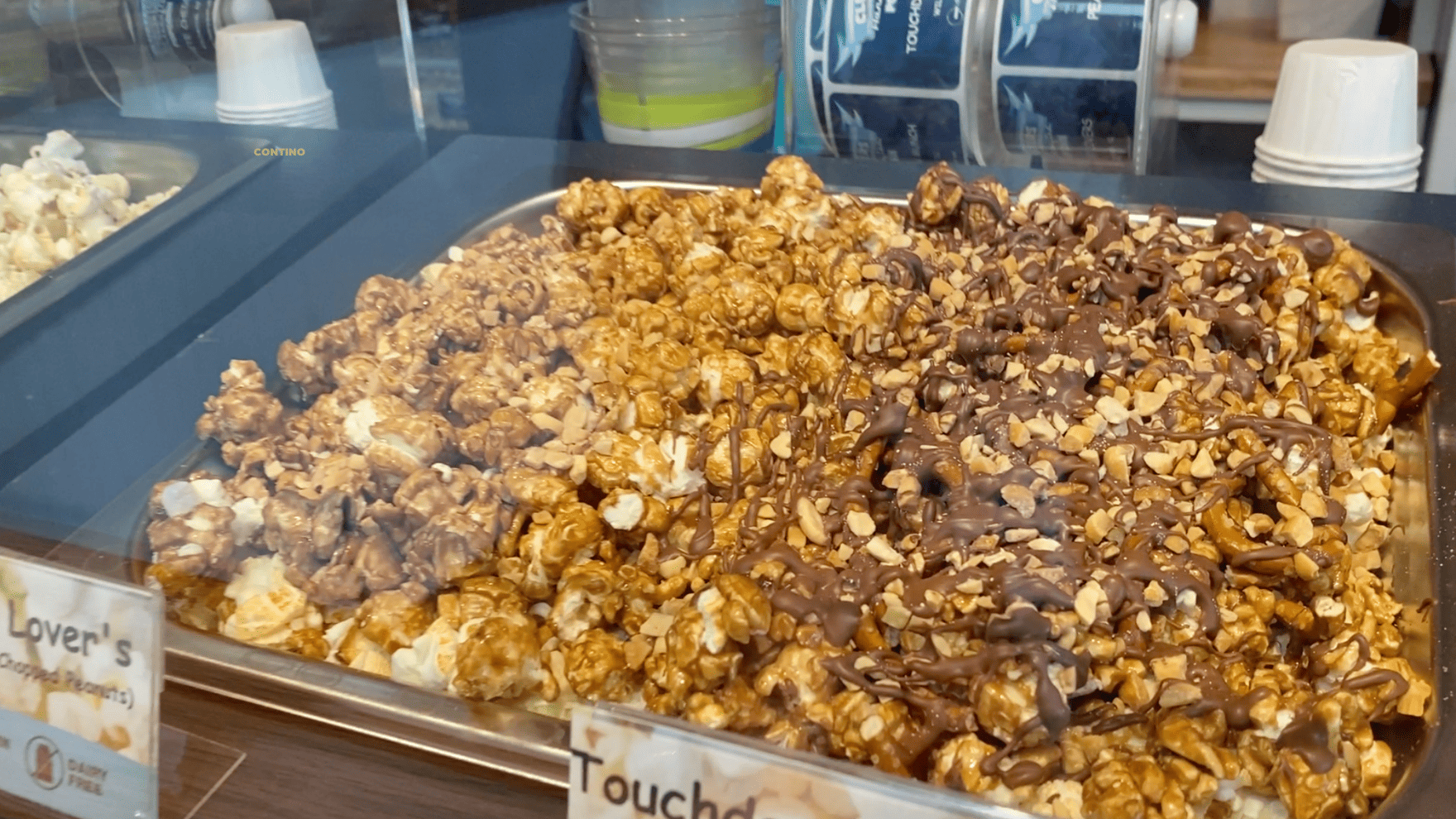 New for this year is the ability to order party favors for your wedding, graduation party, and any other event. For more information on that, contact the Clusters at wildwood@clusterspopcorn.com.
Below is our tasting video. Before you watch please consider subscribing to our Youtube channel and help us reach 100K subscribers before Labor Day Weekend!