10 Rides You Miss From Hunt's Pier
Let's jump back in time to the 1970s. At this time there was one powerhouse in Wildwood, the Hunt's family. They owned movie theaters, stores and one amazing amusement pier. With time things changed and they closed their doors in 1985. From 1957 through 1985 Hunt's pier had some of the best themed rides in the world, even beating out Disney on theming.
On our YouTube Channel,

Wildwood Video Archive

, we held a poll asking everyone what ride from Hunt's pier they miss the most. We did something similar a year ago with Morey's Piers rides. You can check that one out by clicking the link below.
We had gotten over five hundred (400) responses. Out of those responses we totaled up to make a top 10 list.
Make sure you subscribe to our YouTube Channel so when we do new list you can add your input! – 

http://bit.ly/2rk23G7
Let's Start!!
10. Hunt's Pier Log Flume
The Log Flume Ride opened in May 1970 and was built at the cost of $400,000. At it's time it was the largest log flume on the Eastern Coast. It was designed and manufactured in California and assembled in April 1970.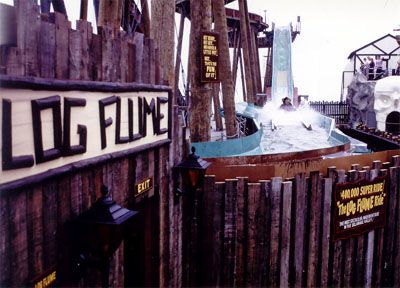 9. Ghost Town Iron Horse Railway
This ride had one of the coolest themed train ride I had seen. The first train that ran here opened with the pier in 1957. It was replaced with the Ghost Town Iron Horse Railway in 1964.
The ride have you a tour of an old ghost town which included a saloon with skeletons drinking their troubles away and some abandoned shacks. the cool part was that it drove you under the coaster.
8. The Ranger
"The Ranger" debuted in 1982 and was ahead of it's time. It cost Hunt's Pier $360,000 to purchase! and lasted only a few seasons.
7. Mini-Hot Rods
The Mini-Hot Rods was another ride that debuted with Hunt's Pier in 1957. This course saw some changes in its cars but the original 8 cars were panther sports cars.
6. Jungleland
Hunt's Jungleland was actually around before Disney's. Some think that Disney took inspiration for their ride from Hunt's but there is no proof of that.
Jungleland debuted in 1959 with four safari boats each fitting 14 people and one crew member. This ride took you though a tropical jungle to explore the wild life. This ride stayed on the pier until the end.
5. Pirate Ship SKUA
I am a big fan of pirates so for me this ride was the best. Built the look like a pirate ship, SKUA opened in 1962 as a built walk-thru funhouse.
Some people don't know but the entire ship was built on a system that would rock it back in forth so that it felt like you were on a ship.
Every room had an awesome theme including spooky barrel rooms, a mirror maze and a tourture room.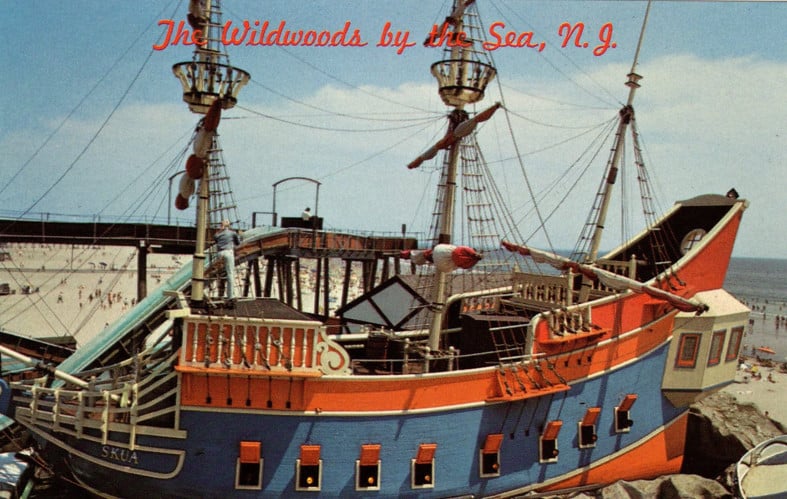 4. Whacky Shack
This ride has an interesting story. It first came to Hunt's Pier in 1963 but not as Whacky Shack but as Devils Inn. A few years later it was re-themed to the Whacky Shack. In the last years of New Hunt's Pier it was re-themed again as Hunt's Horror

.
3. Hunt's Flyer
What can be said about Hunt's Flyer. It was a classic coaster that we all wish was still around. The feeling you got when you hit the back turn is something you can still feel today.
It opened with the pier in 1957 and was the crown jewel of the pier. It stood at a height of 36 feet tall and had a run time of 59 seconds. It was the kind of ride that anyone could ride and have a good time. You really felt like you were "flying over the ocean."
2. Keystone Kops
Debuting in the mid 1960s,  The Keystone Kops took you on a goofy trip in old fashioned cars that would crash through the doors to get from room to room. The rooms had blacklights in it that would have all the characters shining bright. They had some awesome characters too, some of which would dance for you.
1. Golden Nugget Mine Ride
Out of all the rides this is the only one that still around…sort of.
Debuting in 1960, Golden Nugget Mine Ride was A runaway mine car ride that would run you up and down a western themed mine. This was one of those rides that always had a long wait to get on.
After Hunt's piers came and went the Golden Nugget Mine Ride stayed. As Dinosaur beach it was re-themed with a Dinosaur take. After Morey's purchased the pier they tried to restore the ride but the cost to getting up to code was too much.
They sold the track to track to Knoebels' Amusement Resort in Elysburg, Pennsylvania. They built a new building to house it and themed it as the Black Diamond.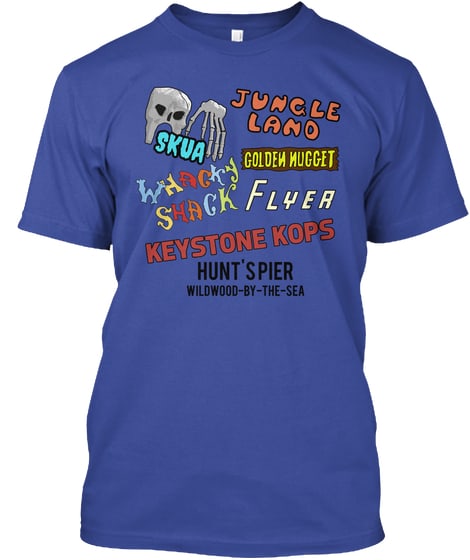 So how do you think we did? Were there rides on here that you also love or is your favorite lost ride not on our list? Comment below and let us know!
Check out our other wildwood Videos and article below!