Wildwood Crest Rejects ICONA Resorts' Application
When it comes to Hotel and Motel companies on the South Jersey shore, one stands out on top, ICONA Resorts.
The roots of ICONA Resorts can be traced back to 2013 when the first property, ICONA Diamond Beach, was established in the Wildwoods. This stunning beachfront resort quickly garnered attention for its stunning ocean views, upscale amenities, and meticulous attention to detail. Its success paved the way for the expansion of the brand, leading to the creation of additional properties in prime locations along the East Coast.
Over the past five years, ICONA Resorts has undergone a significant expansion, transitioning from owning just two properties, ICONA Diamond Beach and ICONA Cape May, to an impressive portfolio that now includes several new locations. The company's growth has been remarkable, with the addition of properties such as ICONA Avalon, ICONA Windrift, and Mahalo Diamond Beach.
However, ICONA's expansion efforts didn't stop there. They took on ambitious ventures to further enhance their offerings and solidify their presence in the hospitality industry.
One notable achievement was the acquisition of the old Beach Theater in Cape May, a historic landmark. With this acquisition, ICONA had the vision to transform the space into a grand Victorian hotel, blending timeless charm with modern luxury.
Furthermore, ICONA Resorts forged a strategic partnership with Gillian's Wonderland Pier, a renowned amusement park, to provide their guests with exclusive access and exciting entertainment options.
This collaboration offered a unique opportunity for visitors to enjoy a seamless experience of luxurious accommodations and thrilling amusement park attractions.
In addition to these ventures, ICONA Resorts expanded its reach by acquiring the Ocean Holiday Motor Inn, in Wildwood Crest.
The intention behind this acquisition is to transform the property into Mahalo Wildwood Crest, a new addition to the ICONA family, promising a distinct and captivating experience for guests in this scenic coastal location in the style of Hawaii.
Recently though, ICONA Resorts have been striking out with approvals in different cities.
Their proposed bid in Ocean City to purchase the Jersey Shore Bank building was rejected
In Cape May, their Grand Victorian was paused after the City denied their request to designate the area as a redevelopment zone, which would bypass any historical board.
Another Ocean City project rejected was a $150 Million Hotel that was to be constructed right on the Ocean City boardwalk after Ocean City's mayor announced that he "can not and will not" support a proposal.
Their latest setback came during the Wildwood Crest Planning Board on Wednesday, June 7th for their current stalled project, Mahalo Wildwood Crest.
Located at the old Ocean Holiday Motor Inn (6501 Ocean Ave), this project first got underway back in 2019 when ICONA purchased the property and started on demolition prior to getting an approved application.
Between then and now there have been pandemics, lawsuits, supply chain issues, CAFRA reports, and everything in-between which lead ICONA to change their design.
As per the application notice, ICONA wanted to reconstruct the existing first-floor lobby of the premises, renovate the existing five-story motel, reconstruct the second-floor pool/patio area, and add an additional five-story motel building. This would bring the total number of units from 55 to 66.
The blueprints showed one important detail which would anger the public. In building the new wing of the motel, ICONA would be blocking the view corridors.
View corridors is something very unique in Wildwood Crest. When the motels were first built, they were built in a way that they would allow views of the beach from every room going back two blocks. These views are view corridors and for decades it has become a standard that you do not block those views because it would hurt the guests of the motel behind them.
ICONA needed the city to approve this waiver of view corridors in order to finally get started on building Mahalo Wildwood Crest.
This application was originally scheduled to be brought in front of the planning board on April 5th. The meeting was packed with residents concerned about the view corridors. Due to the time restrictions on the meeting, the application was tabled for June 7th.
The June 7th meeting took place with a packed house with ICONA's team, upset residents, local businesses, motel owners, Greater Wildwood Motel Association, and city officials.
After hours of testimony and public comment, the city of Wildwood Crest denied its application to block the view corridor.
Moving forward ICONA Resorts will have to redesign their new resort so that the view corridor will not be blocked.
It is crucial to recognize that nobody desires to witness the failure of ICONA in their undertakings. ICONA Resorts have demonstrated an exceptional ability to introduce outstanding resorts to the Jersey Shore. All residents simply expect ICONA to adhere to the regulations set forth by the towns and the wants of the public.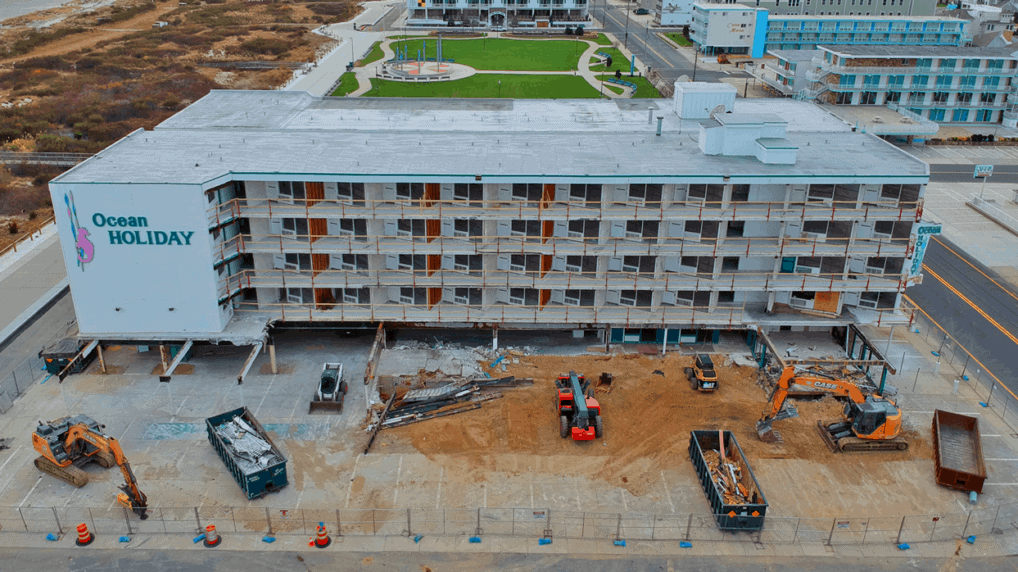 There is no word yet on when ICONA Resorts will submit a new application for the Ocean Holiday Motor Inn. Since the motel has been partially demolished since 2019, there are growing concerns about how sound the building is.
While ICONA did take steps to make sure the building can handle its weight, over three years of storms, seasons, and salt air could have caught some kind of damage.
The Wildwood Video Archive hopes that ICONA Resorts can get a new plan passed and construction underway before the building sees any kind of damage.
Below is a tour of all of the new businesses up on the Wildwood Boardwalk. Before you watch please help us hit 100,000 new subscribers by clicking the subscribe button.